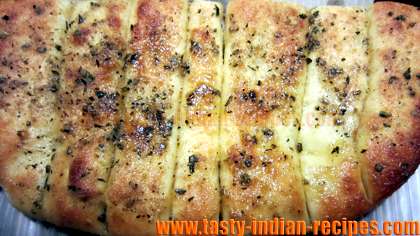 Quick and Easy Garlic Bread is an extremely quick way to make tasty home made garlic bread. The leftover bread or buns are topped with lots of cheese, garlic and herbs and then baked to turn into delicious and easy garlic bread recipe.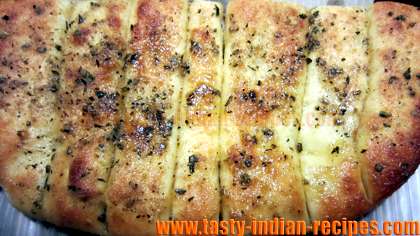 Prep time: 5
Cook time:
Total time: 25
Yield: 4 servings
Ingredients:
2 breads/buns (french or Italian)
4 tsp unsalted butter
4 tbsp parmesan cheese
2 tbsp mixed herbs
4 tsp garlic minced
A pinch of black pepper powder
Salt to taste
How to make Quick and Easy Garlic Bread:
Cut each bread or bun into 2 pieces.
Combine garlic, butter, herbs, salt and black pepper powder and mix very well.
Spread a layer of mixture on each bread or bun piece.
Sprinkle a tbsp of parmesan cheese.
Place in the preheated oven at 180 degree C or in the broiler until cheese melts and turns to crispy and brown, for 20 minutes.
Keep checking and remove immediately to serve hot.
Chef Tips:
You can top these garlic breads with your favorite toppings and then bake them.
At the time of serving, sprinkle some dried herbs and oregano to make it more flavorful.