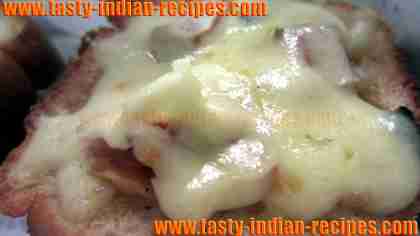 Garlic Bread Spread is a yummy and cheesy snack dish, it can be made with the leftover breads or buns and topped with the delicious mixture of garlic and herbs.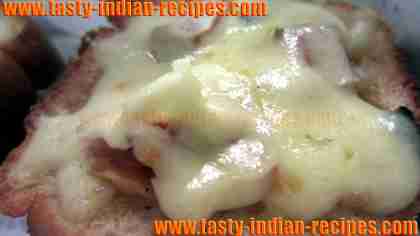 Preparation Time: 8 minutes
Cooking Time: 15-17 minutes
Servings: 2
Ingredients:
2 Italian or french breads
1 tbsp butter
2 tbsp parmesan cheese
2 tbsp garlic chopped or minced
1/4 tsp dried basil
1/2 tsp dried oregano
1/4 tsp mixed dried herbs
A pinch of salt
A pinch of black pepper powder
1/4 tsp dried parsley (thinly chopped)
How to make Garlic Bread Spread:
Cut the bread into equal circles or squares with the help of molds or use any round bowl to cut the breads.
Preheat the oven to 400F degrees for 5 minutes.
Combine garlic, basil, oregano, dried herbs, parsley, salt and pepper powder.
Mix very well until thoroughly combines.
Spread the equal amount of butter and cheese on the pieces of bread.
Top the breads with equal amount of above mixture.
Bake the breads in the oven for about 10-12 minutes until cheese starts melting and puffed up.
Now broil the breads for 2 minutes until seems golden brown.
Serve hot.
Chef Tips:
This is the best snack, which can be prepared with leftover french or Italian bread.
You may adjust the herbs and oregano as per your taste. Add more if you like spicy garlic bread spread.