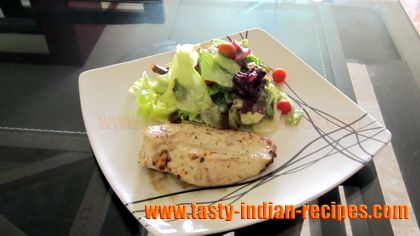 Roasted Chicken Breast is a delicious diet recipe, here chicken breast is simply rubbed with black pepper and lemon juice and roasted in an oven. It is one of the quick  and simplest recipe which can be accompanied with different types of salads.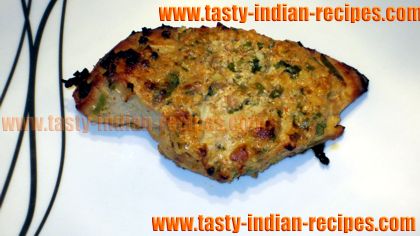 Preparation time: 5 minutes
Cooking time: 30 minutes
Servings: 2
Ingredients:
2 chicken breast halves
2 tbsp olive oil
1/2 tsp black pepper
Salt to taste
1 tsp lemon juice
1 tsp chaat masala
1/4 tsp cumin powder
How to make Roasted Chicken Breast:
Cut the Chicken Breast horizontally and rub with olive oil.
Sprinkle some salt, black pepper powder and lemon juice.
Rub all the spices evenly from all the sides of chicken.
Preheat the oven to 350 degrees for 5 minutes.
Meanwhile prepare an oven safe frying pan or baking tray by spreading some olive oil.
Place the chicken breast on prepared oven pan and cook for 12-15 minutes or until chicken breast look brown from both the sides.
Check the softness by inserting a fork or a skewer inside the chicken breast.
After 15 minutes take out the chicken from oven and place on preheated tawa or skillet.
Sprinkle little bit of olive oil.
Cook for 3-4 minutes for giving a smoky flavor to the chicken.
Flip over the chicken and again cook for few minutes.
Switch off the gas and leave it to rest for 3-4 minutes for settling the juices of chicken before eating.
Sprinkle some chaat masala and cumin powder.
Serve with lettuce or any type of salad.
Chef Tips:
Remember every oven has different operating systems and timer settings, so while making this recipe, adjust your oven temperature accordingly and check the softness and crispness of chicken time to time.
You can rub the chicken breast with thyme and other spices like coriander powder, cinnamon powder and cardamom powder to make it more flavorful.