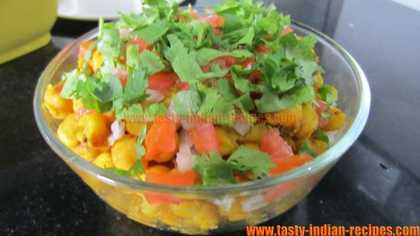 Chickpea Salad is a tangy flavored quick salad dish, made with boiled chickpeas and flavored with feta cheese, garlic, olives and lemon juice. Chickpea / kabuli chana are rich in proteins, iron and folic acid and this chickpea salad is one of the most healthy, easy and quick salad recipe.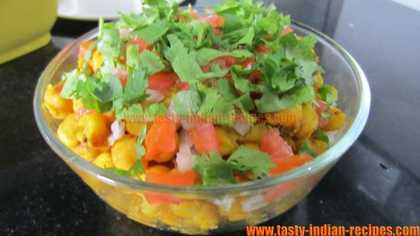 Preparation time: 5 minutes
Cooking time: 5 minutes
Servings: 4
Ingredients :
2 cups boiled chickpeas (kabuli chana /white chick peas)
1 cup crumbled feta or mozzarella cheese
1/2 cup black olives, pitted
1 small onion, finely chopped
1 medium tomato, finely chopped
2 pods of garlic, minced
2 tbsp fresh coriander leaves, finely chopped
1/2 tsp red chilli powder
1/2 tsp ground black pepper
1 tsp lemon juice
1 tsp butter
Salt to taste
How to make Chickpea Salad :
Melt butter in a non-stick frying pan.
When the butter is completely melted, then add boiled chickpeas.
Stir continue for few seconds and then add minced garlic.
Cover the pan and leave to cook for few minutes on a low flame.
Add little bit of salt and continue cooking chickpeas, till water evaporates and chickpeas dried.
Toss with little bit of chopped coriander to blend with the flavors of fresh coriander leaves.
Garnish with the mixture of onion, tomato, olives and feta cheese.
Sprinkle red chilli powder, ground black pepper and lemon juice.
Finally garnish it with chopped coriander leaves.
You can serve it either as it is or refrigerate for an hour to serve chilled.