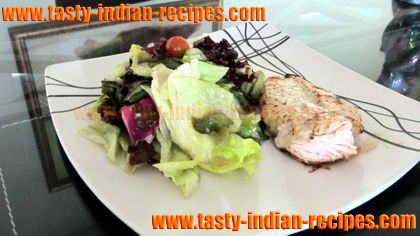 Grilled Chicken Caesar Salad is a great and healthy dish, which consists of low calories chicken breast along with the flavorful caesar salad. The caesar salad is made of all healthy and tasty vegetables. It is flavored with the sauces and cheese and then served with the grilled chicken breast. You can have it at any time you want.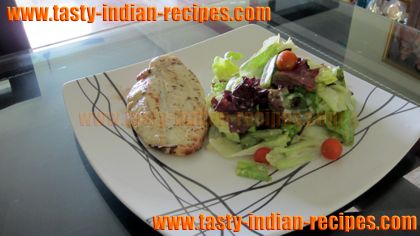 Preparation time: 10 minutes
Cooking time: 12 minutes
Servings: 1-2
Ingredients:
For making Caesar Salad you need:
2 cups (½ head) Romaine lettuce
1 cup Chinese tomatoes
1/2 cup broccoli
2 tbsp Parmesan cheese
2 tbsp mayonnaise
2 tbsp fresh lemon juice
2 tbsp pineapple juice
Few drops Tabasco sauce
1 tbsp Dijon mustard
1/2 cup croutons (optional)
4 tbsp olive oil
Pepper powder to taste
Salt to taste
For making grilled chicken you need:
1 large chicken breast
2 tsp olive oil
Salt to taste
Pepper powder to taste
Chaat masala to sprinkle
How to make Grilled Chicken Caesar Salad Recipe:
Combine all the ingredients of making Caesar salad except the croutons.
Whisk together for well blending.
Whisk constantly and taste it. Adjust with the seasoning.
Preheat the oven to 350F degrees and keep on grill mode.
Take a chicken breast and apply little bit of oil on both the sides.
Now spread salt and pepper powder as per the taste.
Grill this chicken for about 6 minutes and apply little bit of oil in between.
Now you may mix the croutons in the salad just before serving.
While serving sprinkle some chaat masala and serve along with the caesar salad.
Chef Tips:
This chicken is healthy to eat and very low in calories, you can have it on daily basis.
For making the flavorful chicken breast I just added chaat masala.
Caesar salad can be refrigerated for 2 days.
The croutons should be added just before the serving only, else they will get wet and the salad will be tasteless.