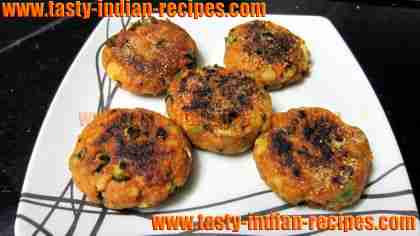 Potato cutlet is a delicious combo of boiled potatoes and green peas. The unique cutlet dough consists of best Indian spices and then shallow fried in little amount of oil. Although it is a great snack dish of North India, but truly famous in every part of the country.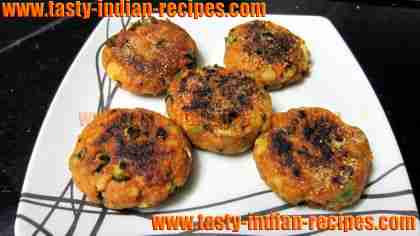 Preparation time: 20 minutes
Cooking time: 10 minutes
Servings: 20 cutlets
Ingredients:
1/2 kg small size potatoes
1 cup green peas
8 green chillies finely chopped
2 tbsp ginger-garlic paste
6 bread slices
1/2 tsp red chilli powder
1/4 tsp turmeric powder
1/2 tsp coriander powder
1/2 tsp cumin powder
1/4 tsp dry mango powder
1/2 tsp onion powder
1/2 tsp garam masala powder
Oil to shallow fry
Fresh coriander leaves chopped
1/2 cup semolina (suji, rawa)
Salt to taste
How to make Potato Cutlet:
Pressure cook the potatoes for 4-5 whistles.
Peel and mash in a big bowl.
Boil the green peas and mince in the potatoes.
Add all the spices along with the coriander leaves.
Grind the bread slices and make a powder.
Mix in the mixture of cutlet.
Mix well and make a medium thick dough by kneading with your fingers.
Heat the non-stick tawa and spread little bit of oil.
Make the small balls from the cutlet dough, flatten them, give a touch of semolina and place on the hot tawa.
Higher the flame for a minute and then simmer to fry from inside as well.
Place 4-5 cutlets at a time until golden brown from both the sides.
Serve hot with the green chutney or tomato sauce.
Chef Tips:
Serve these cutlets on the spot, else they become soft and tasteless.
You can deep fry these cutlets in the pan as well.
While making on the griddle, keep a flame very low to avoid the raw flavor of the green peas.