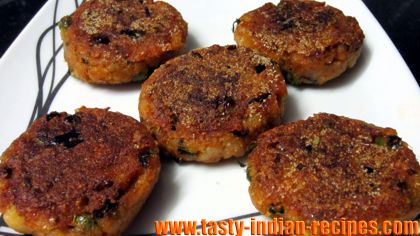 Bhee (lotus stem) Tikki is the unique cutlet made of lotus stem, coated with spicy mixture of gram flour and then deep fried in hot oil. This is a very special snack dish of Sindhi Cuisine.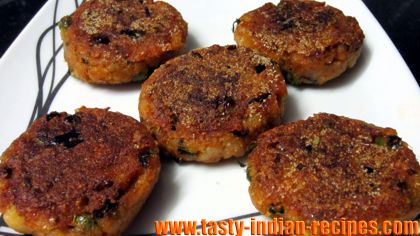 Preparation time: 20-25 minutes
Cooking time: 10 minutes
Servings: 4
Ingredients:
200 gms bhee (lotus stem)
2 tbsp besan (gram flour)
4 tbsp bread crumbs
1 tbsp ginger-garlic paste
4 green chillies chopped
1/2 tsp red chilli powder
2 tsp coriander powder
1 tsp garam masala powder
1/2 tsp chaat masala
Freshly coriander chopped
Salt to taste
Oil to deep fry
2 tbsp semolina (suji)
How to make Bhee (lotus stem) Tikki:
Wash the lotus stem thoroughly, remove out the dirt and chop them into tiny pieces.
Pressure cook the chopped bhee with little bit of salt for about 6-8 whistles.
Make sure that bhee should be soft enough for making tikki.
Combine besan, salt, bread crumbs, green chillies, ginger-garlic paste and all the spices.
Mix well and mash the boiled bhee thoroughly in the mixture.
Add fresh coriander and knead it with little bit of water.
Knead like a dough, but it must be hard, use little bit of oil in your palms.
Make small balls, flatten and give a round tikki shape.
Coat the round shaped tikkis with the semolina.
Heat sufficient oil in a pan and deep fry few at a time on medium high flame.
Fry until tikki turns into crispy and golden brown in color.
In the similar way make all the tikkis and drain on oil absorbent paper.
Serve immediately with coriander or mint chutney.
Chef Tips:
It is very important that bhee should be very soft, the hard lotus stem with not be tasty at the time of eating.
You can mash the boiled potatoes with bhee and can make delicious bhee aloo tikki.
If you do not want to deep fry the tikki's then you can toast them in the oven.