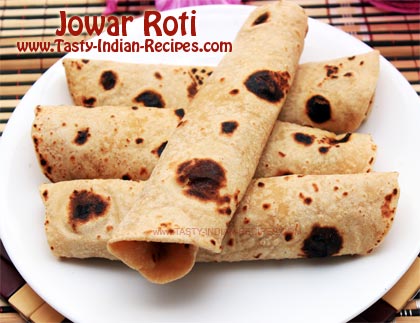 Jowar Roti is made from the jowar or jawari flour. For making it more tasty we have just added onion, chillies and few flavors. This roti is extremely healthy to eat and the best thing is that it goes very well along with any type of sabji recipe and raita. Even the plain yogurt can be a great accompaniment with this dish.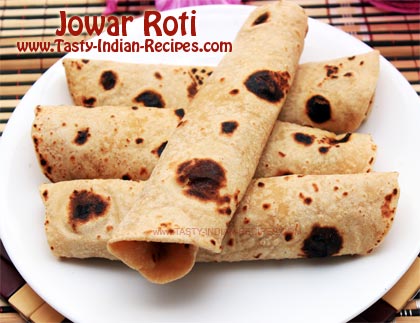 Preparation time: 5 minutes
Cooking time: 5 minutes
Servings: 2
Ingredients:
1 cup jowar flour (juar, jawari)
1 onion thinly chopped
2 green chillies chopped
Few coriander leaves chopped
Salt to taste
Vegetable oil
Water to knead
How to make Jowar Roti:
Combine the flour, salt, green chillies, onion, chopped coriander and 1 tsp vegetable oil.
Mix properly and knead by gradually adding little-little amount of water.
Knead until the dough becomes soft, smooth and manageable.
Heat the griddle and drizzle some oil.
Take a clean plastic sheet or bag and spread some dry flour on it.
Apply little bit of oil in your palms and take a portion of dough.
Carefully place it on the plastic bag and flatten with your palms for rotating until become round.
It should be medium thick to make proper roti.
Place it on the hot griddle and leave to cook on low flame.
Apply oil if required, flip and cook from the other side as well.
Apply little amount of oil from both the sides and cook until it becomes crispy with lightly brown spots.
Serve hot with any veg recipe such as dal, paneer, sai bhaji, etc.
Also you can serve this low cholesterol dodo with butter milk or veg raita.
Chef Tips:
This particular roti is low in calories and cholesterol free, you can have this with fresh yogurt as well.
If you are not calorie conscious, then you can make it more tasty by spreading butter on the top and sprinkle some chaat masala.
Serve this roti immediately, else it become tasteless and hard to eat.