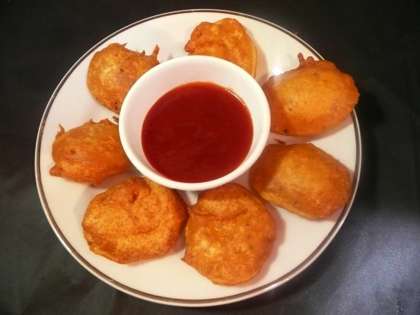 Potato Fritters are simply made with the raw potatoes, coated in the batter of besan and then deep fried in hot oil. It is treated as one of the most famous snack recipe of Sindhi Cuisine. A great dish can be served as a evening snack or goes with drinks as well.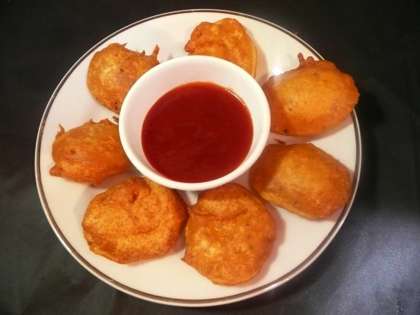 Preparation time: 4 minutes
Cooking time: 10 minutes
Servings: 4
Ingredients:
2 big potatoes
1-1/2 cup besan
A pinch of baking soda
2 green chillies chopped
1/2 tsp red chilli powder
1/2 tsp jeera powder
Fresh cilantro chopped
Salt to taste
Oil to deep fry
How to make Potato Fritters:
Peel and wash the potatoes thoroughly in normal running water.
Slice them into slightly thin round chips.
Sprinkle little bit of salt and leave for about 5-6 minutes in the water.
Combine besan, salt, baking soda, red chilli powder, green chillies, jeera powder and cilantro.
Mix well and make a smooth batter with the help of water.
Break the lumps of the batter.
Heat sufficient amount of oil in a pan.
When the oil is medium hot then simmer the flame.
Drop the potato slices into the batter and coat from all the sides.
Carefully pour into the hot oil, fry 3-4 potato fritters at at time.
Fry for few seconds until turns into rich lightly golden brown in color.
Remove out on oil absorbent paper.
In this way make all the potato fritters.
Serve on the spot with coriander chutney or tomato sauce.
Chef Tips:
You can cut the potatoes in thin rounds, oval or even triangles.
You can serve these fritters with dal fry and rice to make a delicious meal.
This is a great snack dish to serve with bread slice.
If you are not serving them immediately then fry them until half done, keep aside and then re-fry at the time of serving.