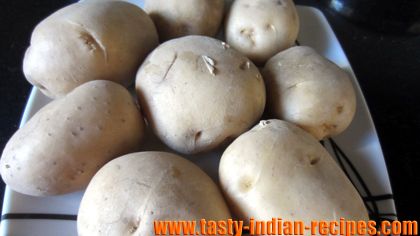 Potatoes are famously known as aloo or batata. It is one of the most demanding food item in Indian cuisine. There are ultimate uses of aloo to make variety of regional cuisine. Aloo is at the top position as a crop in the world.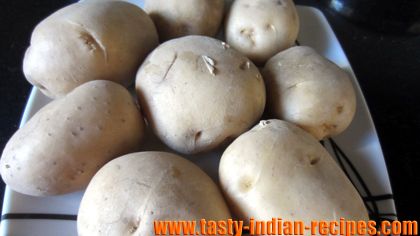 Basically aloo is a swollen portion of the underground stem known as a tuber, which is designed to feed the green leafy portion of the plant. One can not imagine the variety of edible potatoes. It is one of the most comfortable food item, which is highly used in various different ways such as mashed, boiled, chopped, cubed, grated, sliced, peeled, chunks, pieces, baked and roasted.
Potatoes comes in different sizes, shapes and flavors. You must be aware of new and old potatoes, which is nothing but the mature and just harvested potatoes. It is advisable to buy old potatoes, it's because new potatoes are sweet in taste and having less shelf life.
Potatoes have a quality of neutral starchy flavor which makes it ultimate different and versatile. Generally the skin of potatoes is brown, yellow or red. It may be rough or smooth skinned. Potatoes are available everywhere from grocery stores to vegetable markets, from small shops to big mega marts. You can get them loose and in branded packages.
It is always advisable to buy them from a bulk display, so that you will be able to pick them as per your choice. Avoid buying those potatoes who are soft while touching, also who are not proper in shape. Sometimes you may observe spots and blemishes on the potatoes or potatoes having a greenish tint, or sprouts, simply ignore picking them up, as it would be wastage of money and time.
You can get small or baby potatoes also in the market which are specially for making dum aloo and kofta recipes. Potatoes must be firm, well shaped and moist free. You may observe cleaned, peeled or skinless potatoes in the market, never buy them, it's because the skin is protective aspect of potatoes and once if it is already removed and washed then potatoes become vulnerable to bacteria.
USES:
It is very important to clean and wash the potatoes 3-4 times thoroughly in normal water before using for making recipes.
You must use or cook them after chopping and if you are not using immediately then put them in normal water until further used. You may add few drops of lemon juice into the water to prevent the potatoes from becoming dark in color.
Fried potatoes are always favorite of kids.
Fried potatoes is one of the most tastiest side dish with dal and rice.
You can use them boiled, stir fired, shallow fried, deep fried or pan fried as per your recipes.
Potatoes are simply pressure cooked or boiled with few whistles to make amazing parathas.
Mashed potatoes are highly used for making cutlets, patties and several other stuffing.
You can fry potatoes along with other vegetables such as okra, cauliflower, beans etc.
Potatoes are highly combined with veg and non-veg recipes.
You can make garlic potatoes by adding lots of minced garlic and other spices.
Simply stir fry the diced potatoes and toss with oil and herbs to make a delicious snack or side dish.
Crispy and tasty potatoes are made just by adding the seasoning of salt and pepper powder.
India's most leading nashta is vada pav which is possible only with these potatoes.
Cubes and diced potatoes in onion, ginger-garlic, green chillies and tomatoes is the great option, when any other vegetable is not available in the home.
Delicious dosa bhaji is the blend of boiled and mashed potatoes.
You can mash the boiled potatoes with the vegetables of your choice to make variety of tikkis, cutlets, patties and rolls.
When you are in hurry and do not have time to boil the potatoes, then you may grate the raw potato to make paratha. The taste will be delicious.
Small or baby potatoes are the main base for making dum aloo and kofta recipes.
Aloo chaat and ragda pettice is all time favorite snack dish.
Kids favorite potato wedges and french fries are made of potatoes.
Delicious sandwiches, rolls, wraps and burgers are non-stop, irresistible snacks for making the day.
Apart from all above uses, we can not forget that ready made or home made chips is a great outcome of potatoes and highly served in almost every party and occasions.
STORAGE:
Potatoes should be stored at cool and dry place.
They need good cross ventilation to remain fresh.
Keep them away from the direct sun light or sun exposure, they are like humans because they need place and ventilation to breathe also in hot sun light their skin becomes green and bitter in taste.
Never store potatoes and onion together, it's because the moisture factor of onion can damage the potatoes.
Do not store them in the refrigerator, else they will become tasteless.
You can store them for 15-20 days at room temperature.
You can refrigerate cooked potatoes for 5-6 days.
Boiled potatoes can be refrigerated for a week.
Keep checking them time to time, it's because if one potato have started ripen then it will start damaging all the other potatoes.
BENEFITS:
Potatoes is an excellent source of Vitamins, maganese, potassium and copper.
It acts as a good dietary fiber.
They contains antioxidant properties.
Baked potatoes are extremely healthy and low in calories.
Slices of raw potatoes are effective for reducing the under eye dark circles.
Juice of raw potatoes is a good source to cure spots and blemishes of skin.
Raw potato juice is extremely healthy to relieve the pains of stomach and various body disorders.
The skin of potatoes is vibrated with good amount of nutrients, hence always take off the thin layer of the potato skin before cooking.
Recipes made from potatoes:
Aloo Paratha
Potato Wedges
Aloo Tikki
Potato Toast
Potato Cutlet
Aloo Frankie
Methi Aloo Paratha
Aloo Palak Paneer
Aloo Chole
Tawa Aloo Bhindi
Ragda Patties
Dry Aloo Gobi Fry and many more.