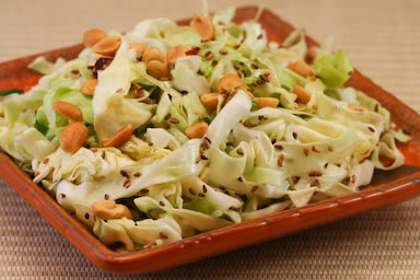 Indian Cabbage Salad is one of the best and healthiest accompaniment to any Indian meal. The preparation of this cabbage salad takes hardly few minutes, hence can be cooked and served fresh on daily basis.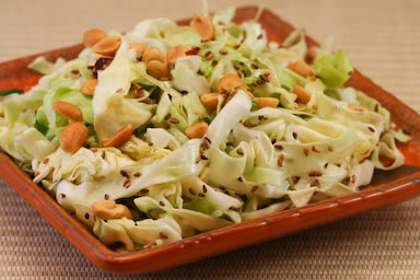 Preparation time: 2 minutes
Cooking time: 5 minutes
Servings: 4
Ingredients:
2 cups fresh cabbage (patta gobi) shredded
1/2 tsp black mustard seeds
1 cup carrot (peeled and chopped)
1/2 tsp fresh lemon juice
4 tbsp roasted peanuts crushed or grounded
1 tomato, diced
Fresh coriander leaves chopped (optional)
Ground black pepper to taste
Salt to taste
1/2 tsp olive oil
How to make Indian Cabbage Salad:
Take a big salad bowl and mix the cabbage, tomatoes, carrots and peanuts.
Roast the mustard seeds in olive oil and mix in the bowl.
Now add chopped coriander and remaining ingredients and toss very well.
Serve as an accompaniment.