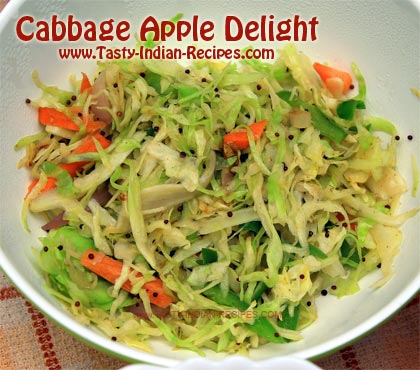 Cabbage Apple Delight is a sweet and spicy treat of healthy cabbage and seasonal apples. The recipe is flavored with several fragrant full spices and can be eaten as it is, when you want to eat something good and different. It can be eaten as a salad with any meal.
Ingredients:
2 cups fresh red cabbage (sliced or chopped)
2 apples (peeled and sliced)
1-1/2 tbsp all-purpose flour (maida)
1 onion finely chopped
1 inch cinnamon stick bits
3-4 black peppercorns
2 cloves
1/2 tsp sugar
2 cups water
Salt to taste
1/2 tsp ground black pepper
1/4 tsp dry mango powder
1/4 tsp apple cider vinegar
1-1/2 tbsp oil
How to make Cabbage Apple Delight:
Heat the oil in a non-stick pan.
Add finely chopped onion and saute for a little while.
Add the slices of apples and cook for a few minutes.
Mix the spices, sugar and vinegar along with water.
Bring the mixture to few boils.
Now add chopped cabbage and little bit of salt.
Cover the pan, simmer the flame and leave to cook for about 5-6 minutes.
When it is almost done, then add all-purpose flour.
Stir continue to break the lumps.
Cook only for 2 more minutes and serve immediately.