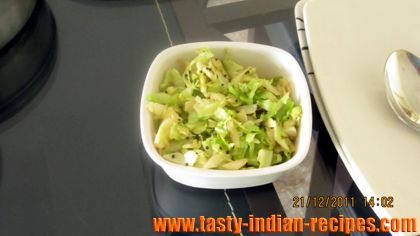 Cabbage and Apple Salad is a healthy version of salad made with cabbage and apples and then topped with the flavored dressing. This salad consists a very good source of vitamin C and high amount of nutrition because of its healthy ingredients.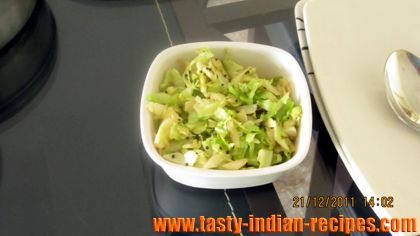 Preparation time: 10-12 minutes
Cooking time: nil
Servings: 2-3
Ingredients:
1-1/2 cup cabbage shredded
2 apples thinly chopped
1 green chilli thinly chopped
2 tbsp fresh cream
2 tsp milk (low fat)
A pinch of black pepper powder
1/2 tsp vinegar
Salt to taste
How to make Cabbage and Apple Salad:
Combine the shredded cabbage, green chilli and chopped apple.
Stir with the salt.
Add milk and pepper powder.
Mix very well and cover the bowl.
Keep aside for 15-20 minutes until it settles.
Now add fresh cream and vinegar.
Toss gently and keep in the refrigerator.
Serve chilled.
Chef Tips:
You may serve this salad immediately, it is always extremely delicious because of handsome apple flavor.
You can use celery also.
Before making this salad, if you are putting cabbage in warm water for about 20 minutes then it will become crispy.