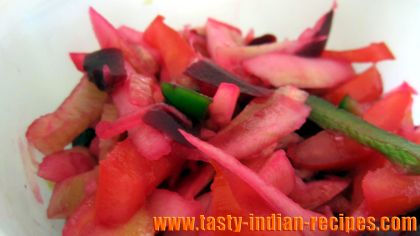 Spicy Kachumber is a delicious, vibrant and chatpata salad made with onion, cucumber, tomato and lots of other healthy veggies which consist vitamins A and C. It is a great accompaniment that is spiked with the chilli and cumin powder. The best dish to serve along with a main course to make a complete meal.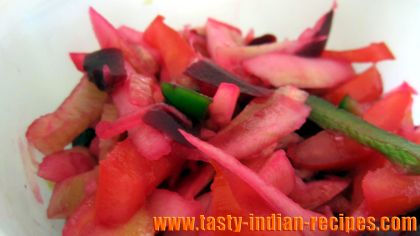 Preparation time: 10-12 minutes
Cooking time: nil
Servings: 4
Ingredients:
1 big onion sliced or rings
1 big tomato sliced
1 capsicum sliced
1 cucumber thinly sliced
1 beet root thinly sliced
1/2 tsp red chilli powder
1/2 tsp roasted cumin powder
1/2 tsp chaat masala powder
Salt to taste
How to make Spicy Kachumber:
Combine all the veggies in a large bowl.
Add salt and other spices.
Taste the seasoning and adjust.
Refrigerate for 10-20 minutes before serving.
Serve chilled.
Chef Tips:
For making this spicy kachumber you can add veggies of your choice.
This kachumber is extremely tasty in eating when is to be served chilled.
Make sure the veggies must be chopped in thin slices to make a proper kachumber dish.
You can add fresh lemon juice instead of chaat masala.