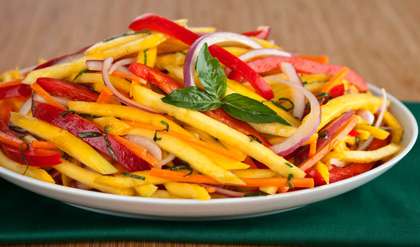 Raw Mango Salad is a fresh, homemade salad can be made on daily basis, specially in summer season. The freshness of mango brings a true taste in this salad.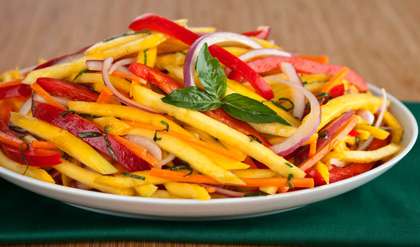 Prep time:
Cook time:
Total time:
Yield: 2 servings
Ingredients:
2 green mangoes
1 tsp red chilli powder
2 green chillies chopped
1 small onion finely chopped
1/2 tsp turmeric powder
Fresh coriander leaves chopped
Salt to taste
How to make Raw Mango Salad :
Peel the mangoes and cut into thin slices.
Arrange the slices of mangoes in a serving plate.
Spread chopped onion and green chillies.
Sprinkle red chilli powder, turmeric powder and salt to taste.
Garnish with freshly chopped coriander leaves.
Refrigerate for 30 minutes to 1 hour.
Serve chilled.