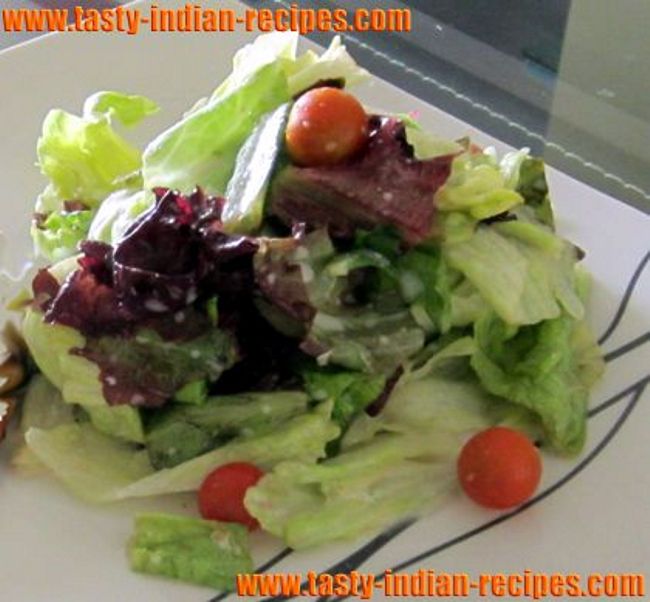 Caesar Salad is a unique mixture of various healthy and leafy vegetables. It is a combination of lettuce, tomatoes, broccoli, etc and being flavored with the tasty dressings. I'm going to tell you the steps to make veg caesar salad, where as you can add the meat of your choice to make the non-veg salad, but keep the remaining ingredients same for this. No one can just deny to eat this salad. Try to make this delicious home made salad recipe on daily basis.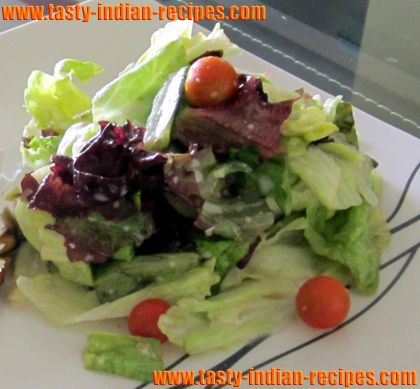 Preparation time: 5 minutes
Cooking time: nil
Servings: 4
Ingredients:
2 cups (½ head) Romaine lettuce
1 cup Chinese tomatoes
1/2 cup broccoli florets
2 tbsp Parmesan cheese
2 tbsp mayonnaise
2 tbsp fresh lemon juice
2 tbsp pineapple juice
Few drops Tabasco sauce
1 tbsp Dijon mustard
4 tbsp olive oil
Pepper powder to taste
Salt to taste
How to make Caesar Salad:
Take a big bowl, mix the lettuce, tomatoes and broccoli.
Toss with the juices and sauces.
Add the salt, pepper powder and olive oil.
Mix well, add cheese and mayonnaise.
Mix and keep in the refrigerator.
Serve chilled.
Chef Tips:
You can whisk the egg in the same salad to make it non-vegetarian caesar salad.

This salad tastes great when is served chilled.
Do not refrigerate this salad for more than 4 hours, it starts leaving its flavors and become mushy.