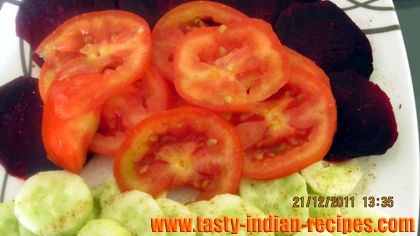 Vegetable Salad is just a simple way to arrange the round shaped cucumber, beet root and you may add some more vegetables of your choice choice, just cut them in a proper round shape and serve with the seasoning. It is a great way to add nutritional values in your meal. Nature has gifted us lots of healthy and tasty vegetables, which can be used for making various types of salads. Learn to make tasty and fat free salad and add in your everyday meal menu.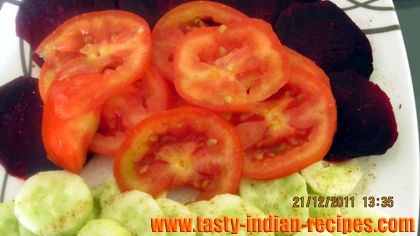 Preparation time: 5 minutes
Cooking time: nil
Servings: 2
Ingredients:
1 cucumber
1 red beet root boiled and peeled
1 medium size tomato
Salt to taste
Chaat masala to taste
How to make Vegetable Salad:
Peel the cucumber and wash in normal water along with the tomato.
Cut the beet root, tomato and cucumber into rings.
Sprinkle some salt and chaat masala.
Serve this nutritional salad with any meal.
Chef Tips:
You can add your choice of vegetables such as onion, carrot, radish, etc.
If you do not like chaat masala, then you may sprinkle some fresh lime juice to make your salad more flavorful.