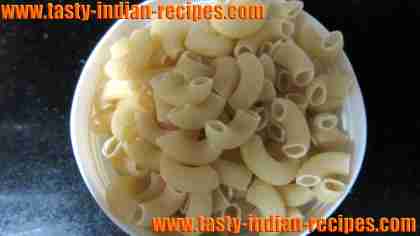 Macaroni and Fruit Salad is a healthy and nutritional combination of macaroni, vegetables, fruits and mint dressing. This is one of the most healthiest salad recipe, specially to boost the immunity in body.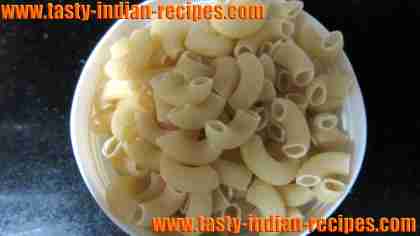 Preparation time: 15 minutes
Cooking time: 5-7 minutes
Servings: 4
Ingredients:
50 g macaroni
1 orange segment
1 carrot peeled and chopped
1 capsicum sliced
1 cup beans chopped
2 tbsp processed cheese
1 cup sweet lime juice
2 tbsp mint leaves (thinly chopped)
2 tbsp low-fat curd
2 tbsp sugar
2 tbsp mayonnaise sauce
Salt to taste
How to make Macaroni and Fruit Salad:
Grind the sugar and make a smooth powder. Keep aside.
Combine mint, mayonnaise, curd, cheese, lime juice, black pepper powder, salt and sugar powder.
Mix very well and keep aside for few minutes to settle down.
Boil the macaroni in 2 cups of water and drain through the sieve.
Also boil the beans and set aside.
Shuffle up the boiled macaroni with the help of fork.
Now combine boiled macaroni, orange, carrot, capsicum and beans.
Mix the above dressing and toss well.
Adjust with seasoning if required and Keep for few hours in the refrigerator.
Serve chilled.
Chef Tips:
For making macaroni and fruit salad recipe, you may use fruits of your choice, make sure that fruits must be fresh and thinly chopped.
If you like spicy mint dressing, then add thinly chopped green chillies and then enjoy spicy macaroni and fruit salad.
At the time of presenting this dish in front of kids, garnish with little amount of fresh cream, kids will definitely love to eat it.