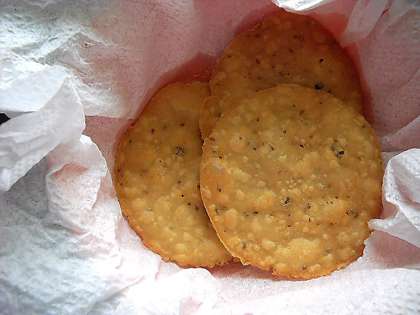 Masala Mathri is one of the famous Indian snack dish, here two types of flours are blended in dry fenugreek leaves and cooked with fresh Indian spices.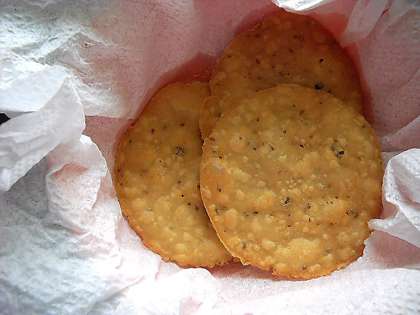 Preparation time: 10 minutes
Cooking time: 15-20 minutes
Servings: 6
Ingredients:
4 cups all purpose flour
1 cup wheat flour
2 green chillies finely chopped
A pinch of asafoetida
1/2 tsp fennel seed powder
1/2 tsp cumin powder
3/4 tsp pepper powder
2 tsp dry crushed fenugreek leaves
2 tbsp ghee/oil for mixing
2 cups warm water to knead the dough
Salt to taste
Vegetable oil to deep fry
 How to make masala mathri :
Sieve both the flours and add salt as per taste.
In a big mixing bowl, combine all the ingredients very well.
Melt the ghee in a saucepan and pour over the mixture.
Knead the dough with warm water until becomes soft and stiff.
Cover the dough and keep aside for 15-20 minutes, till it sets.
Heat sufficient oil in a pan and in the meantime, knead the dough slightly with your hands.
Take some oil in your palms, make small balls from the dough and roll out each ball into a thick puri/poori.
Make all the puri's in the same way and pierce them with fork or any spotted spoon.
Dip few puri's at a time in hot oil and fry from both sides till turns to golden brown.
Drain on oil absorbent paper and serve hot with your morning or evening tea / coffee.