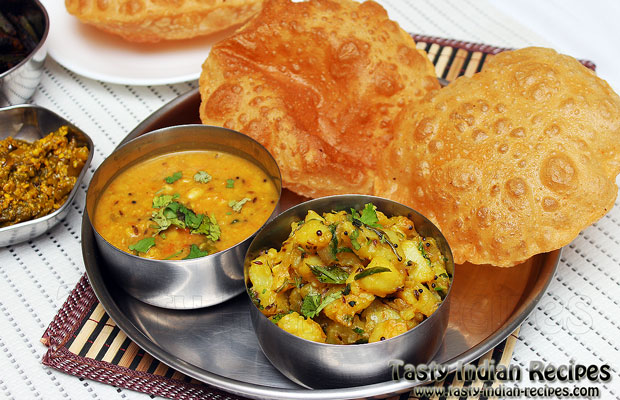 Poori Bhaji Recipe is the famous Maharashtrian Breakfast in India. Here Bhaji is made with Boiled Potatoes and flavored with Urad Dal, Mustard and Cumin Seeds. Puri Bhaji is the comfort Indian Food and you can easily make it in a very less time. Warm and lightly spiced potato bhaji/sabzi with hints of coriander, ginger and other Indian spices makes an excellent side dish with pooris or chapatis.
This poori bhaji recipe is the Maharashtrian version of potato curry with pooris and can be accompanied with onion slices, lemon wedges and Coconut Chutney. In Maharashtrian families, this puri bhaji is also served with Dal, Rice, Raita or Salad/Koshimbir in a thali.
Last week, I got an email twice requesting for the batata bhaji, served with poori, hence I made it yesterday for my readers. This poori bhaji recipe is very different from the Punjabi aloo poori. Few days back, I made poori bhaji recipe along with Yellow Moong Dal, Brinjal Fry and Pickle. It was easy, simple and comforting meal for my family.
This Bhaji is also called as batata bhaji in marathi and can be served with Chapatis or Dosa's. If you do not want to have pooris, then you have several other options available, that means, this potato bhaji makes a good side dish too. Let me show you how to make this delicious Poori Bhaji Recipe at home.
Poori Bhaji Recipe is one of the popular and most loved food combinations in India. The most popular choice to accompany this deep fried delight (Poori) is a simple vegan curry of potato called Potato Bhaji or Aloo Bhaaji or Poori Masala. Roughly mashed boiled potatoes are cooked along with fried onions and few selected spices. Aloo Bhaji or Potato Bhaaji is one of the most simple, easy to follow recipe, but it is also one of the best tasting dish that goes well with Poori.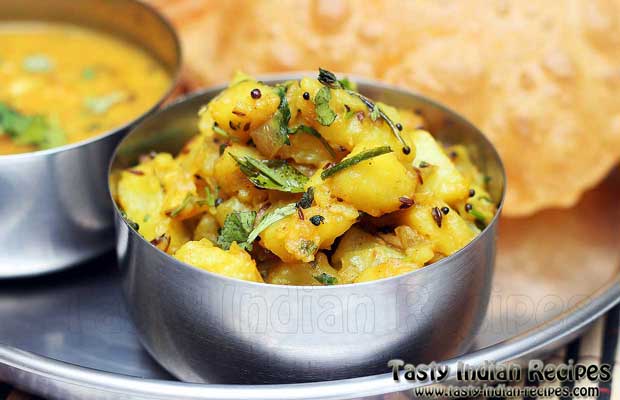 Today I have served my Poori Bhaji Recipe with Chana Dal, Bhindi Fry and Pickle, again this meal is awesome for us.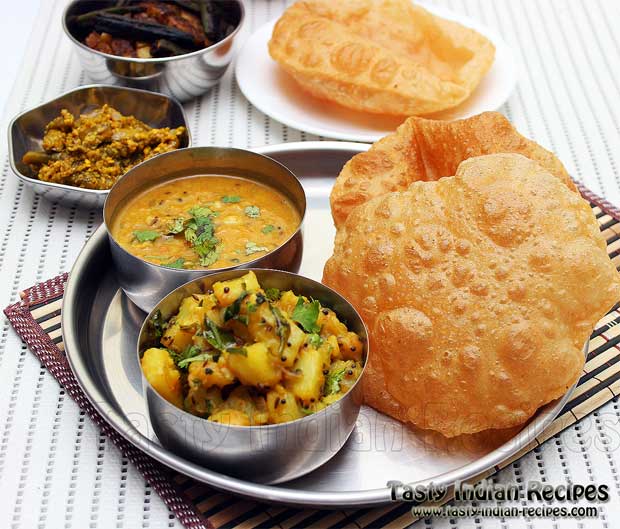 For making Poori, check the recipe here.
Poori is unleavened deep fried bread and is made of whole wheat flour. The whole wheat dough is rolled into small 5 inch circle and deep fried in a hot oil until it puffs up and turns golden yellow. The simple science behind this puffed up Poori which resembles like a small round ball is due to the moisture in the dough that changes into steam which expands in all directs when deep fried.
How to make Poori Bhaji Recipe:
Poori Bhaji Recipe is very famous Breakfast in India. Here Bhaji is made with Boiled Potatoes and flavored with Urad Dal, Mustard and Cumin Seeds and generally served with hot Indian Pooris.
Ingredients
For making Potato Bhaji you will need:

4 medium sized potatoes (boiled and peeled)
2 green chilies, finely chopped
1 medium onion, finely chopped
1 teaspoon urad dal/black gram
1 teaspoon mustard seeds (rai)
1 teaspoon cumin seeds (jeera)
A pinch of asafoetida/hing
1/2 teaspoon ginger, grated or finely chopped
2 cloves garlic, chopped
Few curry leaves
3/4 teaspoon turmeric powder
1 cup water
2 teaspoon fresh coriander leaves, finely chopped
2 teaspoon oil
Salt to taste
Instructions
Boil the potatoes, peel and cut into small size pieces. Also finely chop one onion, 2 cloves of garlic and 1/2 teaspoon ginger. Keep aside.
Heat 2 teaspoon oil in a pan on a low flame and add 1 teaspoon cumin seeds, 1 teaspoon mustard seeds and 1 teaspoon urad dal. Cook altogether and after few seconds, the mustard will crackle, the cumin will sizzle and the urad dal will turn brown.
Fry on a low flame and immediately add one finely chopped onion. Stir fry and do not allow it to get burned or over fry. We just need to tender the onion, else the bhaji would have bitter tones.
When the onion turns soft, add 2 finely chopped green chilies, 1/2 teaspoon chopped ginger and 2 finely chopped garlic cloves. Stir fry continue on a low flame for one minute.
Now add few curry leaves and chopped potatoes.
Stir the potatoes very well.
Mix well. Add 3/4 teaspoon turmeric powder and salt to taste.
Mix and add about 1 cup of water.
Cover the pan and leave to cook for 5-6 minutes on a low flame.
Garnish with finely chopped coriander leaves.
Notes
You can pack this Poori Bhaji for your Kid's School Tiffin as well and adjust the spices as per your kids taste. Do not make this bhaji over thick or watery. This bhaji must be served in medium gravy. If bhaji is over dried, then add some more water and adjust accordingly.
Tasty Indian Recipes