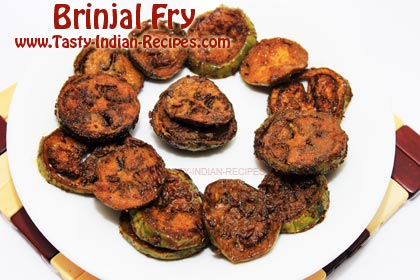 Brinjal is also called as eggplant. Brinjal is high in water content and potassium. It is suppose to possess many medicinal properties and is used as a remedy for cancer, hypertension and diabetes. Brinjal can be made in several different ways and here is the most quick, easy and tasty Brinjal Fry recipe.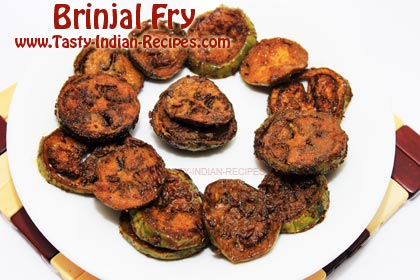 Prep time: 2
Cook time: 8
Total time: 10
Yield: 4 servings
Ingredients :
500 gm Brinjal (small)
1 tbsp mustard seeds
A pinch of asafoetida
1/2 tsp roasted chana dal (bengal gram)
3/4 tsp red chilli powder
1/2 tsp turmeric powder
1 tsp coriander powder
1/2 tsp garam masala powder
1/2 tsp chaat masala powder
Salt to taste
2 tsp cooking oil
How to make Brinjal Fry :
Wash the brinjal and cut into small round pieces. Heat oil in a pan and stir fry brinjal pieces over medium high heat for 2-3 minutes.

Mix salt and remaining spices and now cook them on a low heat. Brinjals turns soft very quickly, so no need to stir again and again. Leave to cook for about 2 minutes.

Stir it often so that the masala gets mixed evenly.
Enjoy with Indian pulao or chapati.
Chef Tips:
You can cut the brinjals in squares or in slices, remaining procedure is same.
Some kid's do not like brinjals, hence Potatoes can be fried with brinjals and flavored with same spices for serving to the kids.