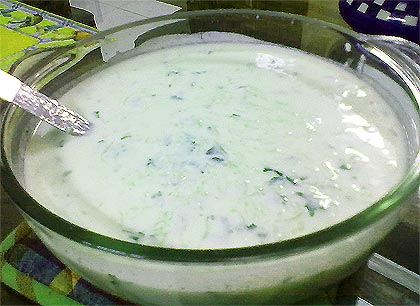 Lauki Coconut Raita Recipe is the beautiful as well as extremely exotic mixture of healthy bottle gourd (lauki), coconut and thick curd. This is the special raita recipe, best to serve with Indian meal or with any Indian pulao or biyani recipe.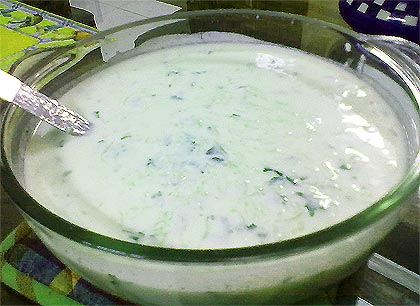 Preparation time: 5 minutes
Cooking time: 10 minutes
Servings: 4
Ingredients:
2 cups lauki (peeled and cut into small cubes)
1 cup coconut (scraped and chopped)
250 gm thick curd
1/2 tsp roasted cumin
1/2 tsp mustard seeds
1 tsp red chilli powder
2 green chillies thinly chopped
Salt to taste
Fresh cilantro chopped
 How to make Lauki Coconut Raita:
Boil the chopped lauki in good amount of water for 4-5 minutes.
Drain and set aside in a bowl.
Mix the green chillies and coconut with the boiled lauki.
Add some water and grind to make a paste.
Beat the curd by adding little bit of salt.
Add ground paste of coconut and mix well.
Add remaining ingredients into the curd and mix with the spoon.
Finally garnish the raita with chopped cilantro.
Serve as it is or refrigerate for few hours to serve chilled.