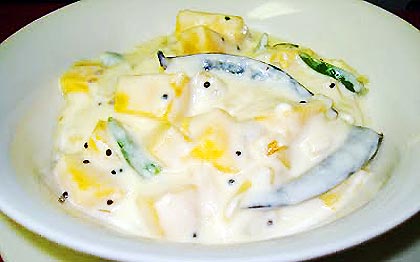 Mango Raita Recipe is a tempting raita recipe made with mangoes and yogurt. This raita is tempered with the unique mixture of onion, curry leaves and mustard seeds.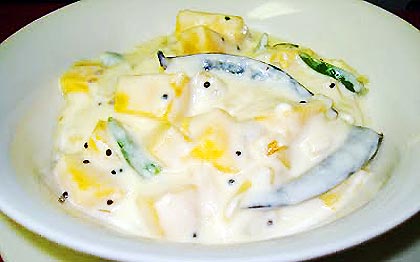 Preparation time: 5 minutes
Cooking time: 5 minutes
Servings: 4
Ingredients:
2 mangoes
2 cups fresh yogurt (curd)
1 tbsp mustard seeds
1/2 tsp sugar
1 small onion thinly chopped
Few curry leaves chopped
2 green chillies thinly chopped
A pinch of black pepper powder
1/4 tsp roasted cumin powder
1/2 tsp mustard powder
2 tbsp dried coconut thinly chopped
A pinch of salt
Fresh coriander leaves chopped
1 tsp oil
How to make Mango Raita:
Peel the mangoes, remove out the middle stone and cut them into tiny pieces.
Beat the curd thoroughly with the help of blender by adding little amount of water.
Now combine the beaten curd, salt, sugar and mustard powder.
Mix very well and add the pieces of mangoes.
Stir and keep aside for 30 minutes.
Heat the oil in a non-stick pan, add mustard seeds and curry leaves.
When the seeds start crackling then add thinly chopped onion along with thinly chopped green chillies.
Saute for few seconds on medium high heat.
Allow the onion to cool at room temperature and then mix in the curd mixture.
Sprinkle roasted cumin powder and black pepper powder.
Garnish with chopped coriander and dried coconut
Serve either on the spot with your meal or refrigerate for few hours and serve chilled.
Chef Tips:
You may use butter instead of oil, the raita will become more flavorful.
If your kids likes dry fruits then you may use them for garnishing purpose. In the dry fruits you can use, cashew nuts, almonds, pistachio and raisins.