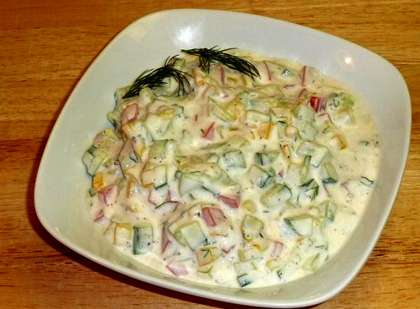 Veggie Corn Raita is one of the best raita recipe, made with fresh sweet corns, healthy veggies and yogurt (dahi).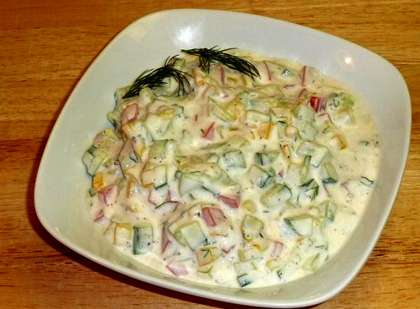 Preparation time: 10-15 minutes
Cooking time: 5-8 minutes
Servings: 4
Ingredients:
4 cups fresh yogurt (dahi)
1 cup boiled sweet corn
4 tbsp chopped carrot
2 tbsp french beans
2 tbsp green peas (matar)
1 small boiled potato
4 tbsp chopped cauliflower
1 cup strained curd
Sugar to taste
Salt to taste
Chaat masala to sprinkle
Black pepper powder to sprinkle
Fresh coriander leaves chopped
For tempering of raita you will require:
1 tsp cooking oil
1 tsp mustard seeds
2 small chopped green chillies
3-4 curry leaves
How to make Veggie Corn Raita:
Boil all the chopped veggies, strain and keep aside.
Whisk the yogurt and add strained curd.
Adjust with salt and sugar by mixing it very well.
Add all the vegetables and mix again.
Heat a saucepan and add oil.
Put the curry leaves, green chillies and mustard seeds in hot oil.
Spread the hot spluttering mixture over prepared raita.
Season with some chaat masala and black pepper powder.
Garnish the raita with chopped coriander leaves.
Keep in the refrigerator until you serve with your meal.