Kachumber Raita Recipe is the simple Indian Raita made with Cabbage, Carrot, Capsicum, Yogurt and spices. It is one of the most flavorful Raita Recipe, in which you can add your favorite vegetables and spices.
Kachumber Raita Recipe is extremely quick and easy Raita Recipe simply tossed with Indian Salad ingredients. This raita has a cooling effect on our body and when you combine it with curd, it is a real heat buster.
I like to use Kachumber in most of our daily appetite, because it is a combination of various healthy and tasty vegetables. You can see here, that how to make Kachumber Salad, Cabbage Kachumber and Spicy Kachumber. You can even browse here more Raita Recipes, which can be made on daily basis.
You can add onion and tomato in this and make sure to serve it chilled. I generally make this raita to serve with Dal and Rice Recipes, and sometimes even with Sindhi Style Bhuga Chawal.
This raita goes very well with several types of Indian Biryani's as well and it is considered as one of the best Indian Side Dish with meal. Let's start making our quick, tasty and easy Kachumber Raita Recipe.
Salad is considered as the most healthy part of our our meal and hence I try to compile it in different ways. You can use your favorite Salad Ingredients and make it in your own style. Following vegetables were there in my hand, so I just went with them. Shred the Cabbage, Carrot and Capsicum, and keep it aside.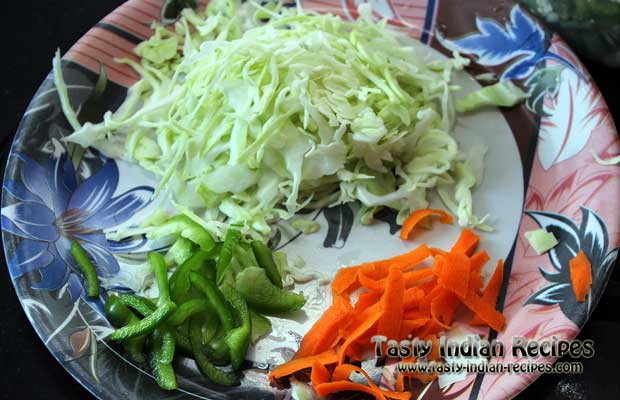 In a big bowl, mix the shredded and grated Vegetables and pour Yogurt over it.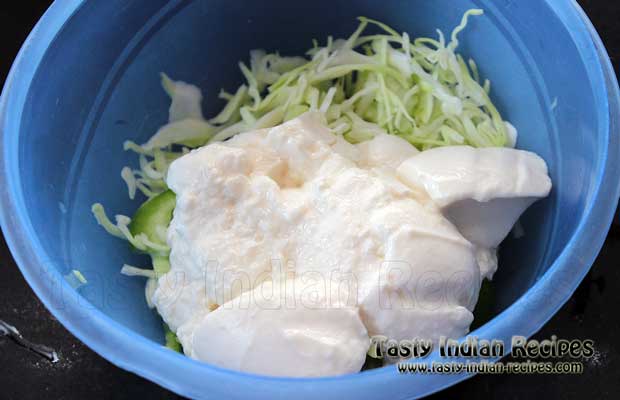 Add Red Chili Powder, Roasted Ground Cumin (Jeera Powder), Ground Black Pepper, chopped Mint Leaves and Salt to Taste. For exact quantity of spices, please refer recipe Rich Snippet below.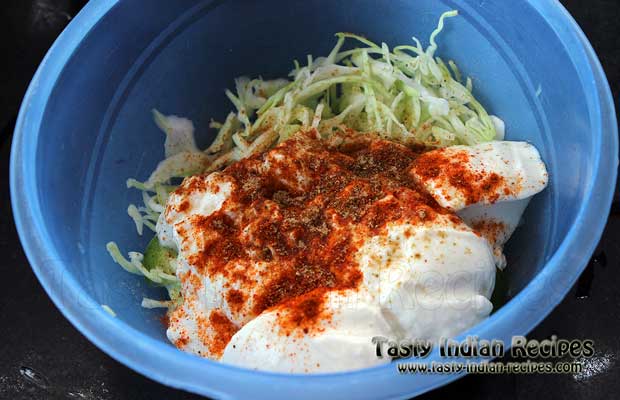 Finally whisk the mixture very well with the spoon and add some finely chopped fresh coriander leaves. Refrigerate for serving it chilled.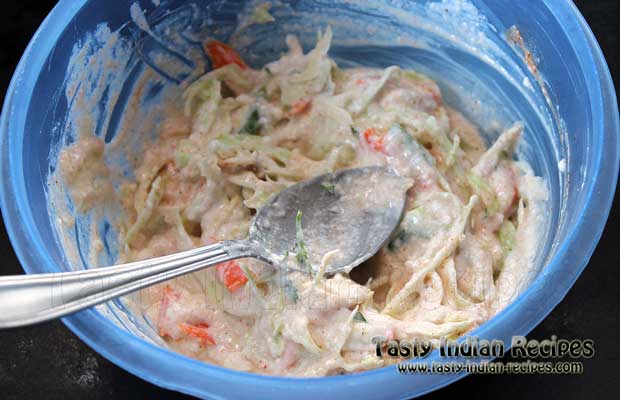 Serve it chilled with Green Peas Curry and Pulao.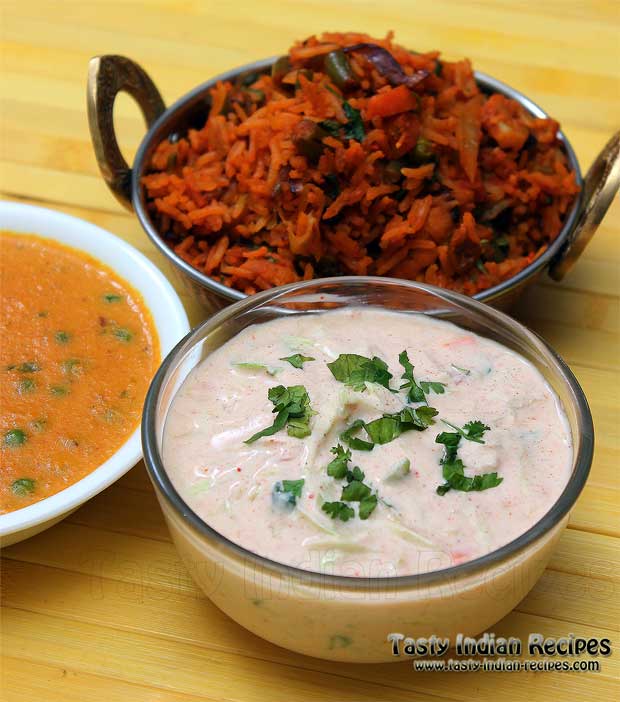 How to make Kachumber Raita Recipe:
Kachumber Raita Recipe is the simple Indian Raita made with Cabbage, Carrot, Capsicum, Yogurt and Spices. It can be served with Dal, Rice and Biryani Recipes.
Ingredients
2 cups plain low fat yogurt /dahi
1/2 cup cabbage, shredded
1 tablespoon carrot, grated
1 tablespoon capsicum (green bell pepper), grated
1/2 teaspoon red chili powder
1/2 teaspoon roasted ground cumin (jeera powder)
1/2 teaspoon ground black pepper
Few mint leaves, finely chopped
Few coriander leaves, finely chopped
Salt to taste
Instructions
Arrange 1/2 cup shredded cabbage, about 1 tablespoon grated carrot and 1 tablespoon grated capsicum in a plate.
Toss them in a big bowl and then pour about 2 cups of yogurt over veggie mixture.
Stir in 1/2 teaspoon of red chili powder, 1/2 teaspoon of roasted ground cumin (jeera powder), 1/2 teaspoon of ground black pepper, few finely chopped mint leaves and salt to taste.
Whisk altogether to mix well and garnish with some fine chopped coriander leaves.
Keep in refrigerator at least for 30 minutes.
Notes
You can add grated lemon rind, Minced cucumber, Chopped tomato, Chopped crisp lettuce and Minced onion for making it more flavorful and yummy. This Kachumber Raita can be served with Several Indian Parathas as well.
Tasty Indian Recipes