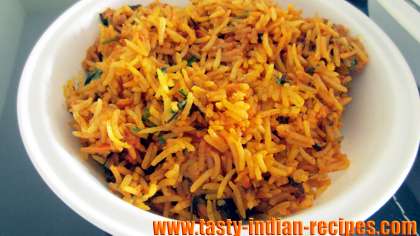 Raseeley Chawal Recipe is a Quick Indian Rice Dish, made with Basmati Rice, Tamarind and mild Spices. It is generally served on special Indian Festivals.
In India, Festivals and Celebrations are through out the year and people like to make variety of festival dishes in their home. This rice dish is one among them. You can flavor it with saffron and lots of dry fruits as well.
Raseeley Chawal is the sweet and tangy flavored rice recipe, best to serve on special occasions, such as Rakhi and Diwali. I like to add crushed moong dal bari in it, which gives an ultimate flavor to my rice recipe.
If cooked leftover rice are available at home, then you can make it under 10 minutes. Raseeley Chawal itself is a complete meal, you do not need any side dish for this, but in any ways, if you want, you can serve it with roasted papad and raita.
This rice dish is ideal for the summer. Tamarind should be added judiciously to suit your palate so that you do not end up with a "khatta" or bland rice. I enjoy this dish with rasam or just a bowl of salad.
Fresh, homemade Tamarind water in this rice, aids in the absorption of iron in your body due to its high vitamin c content. You can replace white rice with brown rice to make it more healthy and low in calories. You can even skip ghee and add little oil for making it more healthy, and a perfect light meal.
How to make Raseeley Chawal Recipe:
Ingredients
1 cup cooked basmati rice
10 pieces of moong dal bari, well crushed
3 tomatoes, finely chopped
1 big onion, finely chopped
2 green chillies, finely chopped
2 tsp honey
2 tbsp tamarind water
1 tsp roasted cumin seeds
1/2 tsp red chilli powder
1/2 tsp turmeric powder
1/2 tsp garam masala powder
Few cashew nuts chopped
2 tbsp pure ghee
Salt to taste
Instructions
Melt the ghee in a big frying pan and add roasted cumin seeds. Saute little bit by adding chopped onion. Fry until onion translucent and little browned.
Now mix the chopped tomatoes, salt and spices. Stir continue till tomatoes are well done.
Add sugar, crushed moong dal bari and tamarind water. Also add 1/2 cup of water and cook till the bari turns soft.
Finally mix cooked basmati rice and garnish with chopped cashew nuts.
Serve piping hot with raita of your choice.
Notes
You can serve this rice dish with Papad and Raita.
Tasty Indian Recipes