Onion Rice is a quick mix of fried onion and basmati rice, finally given a touch of tangy flavored lemon. Easy in cooking and simply amazing while eating homemade onion rice recipe. You can mix boiled veggies of your choice.
Onion Rice can be quickly made at home, you just need to get good basmati rice. Sometimes cooked leftover rice also can be used here. You can even do lot of variations in this rice dish and make it comfortable meal with raita of your choice.
Onion Rice itself is a complete meal, you can even add some vegetables in it and pack it up for your kids school tiffin. Sometimes I like to make the at lunch time and usually serve with cabbage salad and dal. It is awesome:)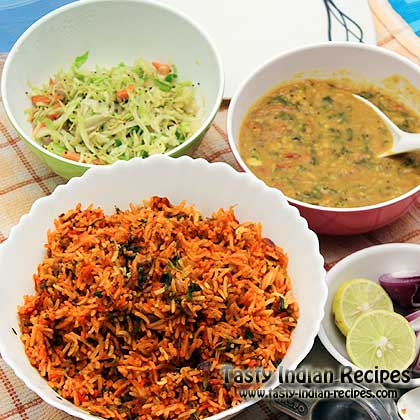 How to make Onion Rice Recipe:
Onion Rice can be easily made at home with Onion, Basmati Rice and Spices. A tangy flavor of this rice dish is because of lemon and it makes rice more tasty
Ingredients
2-1/2 cups fresh, cooked basmati rice (use good quality rice)
3 big onions finely sliced
1 tbsp mustard seeds
2-3 green chillies chopped (use more if you want spicy rice)
2-3 cloves garlic finely minced
2-3 tsp fresh lemon juice
2 tbsp ghee/oil
Fresh chopped coriander leaves
Salt to taste
A pinch of red-orange food color
Few brown onions for garnishing
1 tbsp ghee (for garnishing)
Pepper to taste
Instructions
Melt ghee in a big wok. Add green chillies, garlic and mustard seeds. Saute altogether.
Mix sliced onions and fry continue till onion turns golden in color.
Mix cooked rice, salt, spices and food color.
Pour 1 tbsp of ghee all over and mix very well. Keep the flame medium high and half cover the wok. Cook for 2-3 minutes and stir in between very carefully.
Make sure, you need to keep each and every grain of rice separate. Garnish with freshly chopped coriander and some brown onions.
Serve hot with roasted papad, pickle and raita of your choice.
Notes
If you are calorie conscious, then avoid ghee in this rice dish. Also you can skip food color and keep the rice natural.
Tasty Indian Recipes