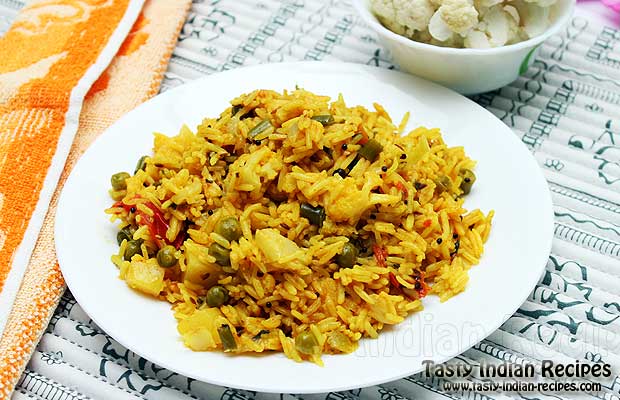 Cauliflower Pulao Recipe is one of my favorite rice dish and I generally make it with combination of other vegetables as well. It is a rich and delicious Rice Recipe known as Gobi Pulav also.
This Gobi Masala Pulao is really a quick and easy recipe. I make it most often for lunch box, as it is an ideal dish to pack for the tiffin of both kids and elders. Cauliflower is loaded with nutrients and considered as a very good source of vitamin C and manganese. Cauliflower has cancer fighting properties also and it is low in fat, high in fiber and has antioxidant and anti-inflammatory properties.
Many Doctors are being recommending to eat the dishes made from cauliflower, because it strengthens the immune system and protects against cardiovascular diseases. Cauliflower Pulao is a simple yet very tasty Indian pulao recipe. I use a good amount of cauliflower to cook with long grained basmati rice and flavor with coconut milk to give a typical Goan touch to this pulao.
Gobi Pulao can  be eaten as it is or with a combo of raita, pickle or curd. A few drops of ghee adds amazing flavor to this rice & makes an ideal Indian Pulao Recipe.
All food lovers would absolutely love this flavorful rice dish, which contains the essence of rice and gobi. It is the simplest of all flavored rice and can be prepared in just a few minutes. So let us try to include this vegetable in our diet and enjoy the nutritional benefits. Here comes a recipe of Cauliflower rice /Gobi rice.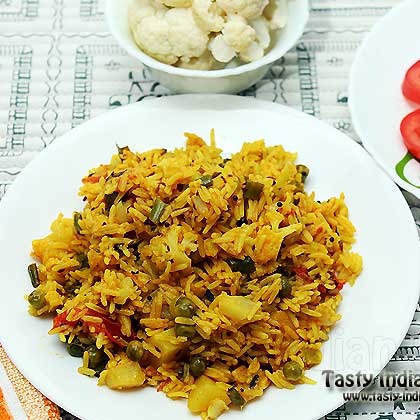 How to make Cauliflower Pulao Recipe :
Cauliflower Pulao Recipe is cooked by adding good amount of Cauliflower (Gobi) in Basmati Rice and Flavored with Ghee and Coconut Milk.
Ingredients
1-1/2 cups basmati rice (preferable long grain)
2 cups cauliflower florets
2 tablespoon green peas (fresh or frozen)
2 tablespoon french beans, chopped
2 tablespoon carrot, chopped
1/2 teaspoon cumin seeds
1 big onion, finely chopped
1 piece cinnamon
2 cloves
2 green cardamoms
1/2 teaspoon ground cinnamon
2 tablespoon ghee / oil
2 green chillies finely chopped
1/2 teaspoon paprika
1/2 teaspoon turmeric powder
1 teaspoon coriander powder
2 tablespoon fresh coriander leaves, finely chopped
1/2 cup coconut milk
2-1/2 cups warm water
Instructions
Soak the rice in normal water for about half an hour. train the rice and set aside.
Melt ghee in a big pan, add cumin seeds, cinnamon, cardamoms and cloves. Saute for a while and add chopped onion.
Stir fry for half a minute and then add green chillies. Fry until lightly browned by stirring frequently.
Mix in strained rice, cauliflower florets, green peas, sweet corn and salt. Stir continue by adding paprika, ground cinnamon, turmeric and coriander powder. Stir fry for about 4 minutes on a moderate flame.
Now add coconut milk and warm water. Combine altogether, cover and leave to cook for about 10 minutes on low flame.
Garnish with finely chopped coriander and serve hot with raita of your choice.
Notes
Garnish this Cauliflower Pulao with some finely chopped coriander and cashew nuts. Serve with raita of your choice.
Tasty Indian Recipes
Chef Tip:
At the time of purchasing Cauliflower, try to get the florets that are well cleaned and white with bright green leaves and always look for heavy and solid one florets. It is necessary for making any Cauliflower Recipe.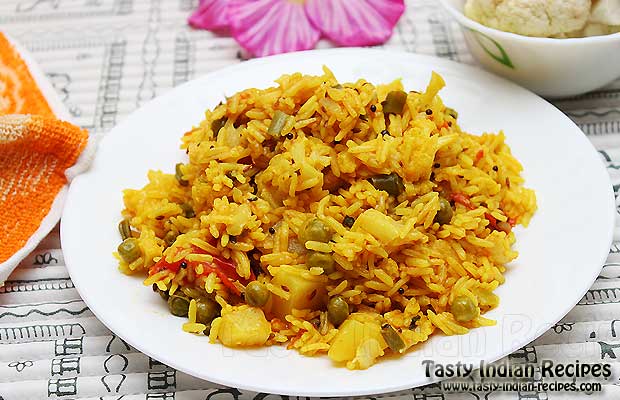 Further Reading :
If you are looking for more Cauliflower Recipes, then do check Dry Aloo Gobi Fry, Gobi Paratha and Cauliflower Paneer Masala.