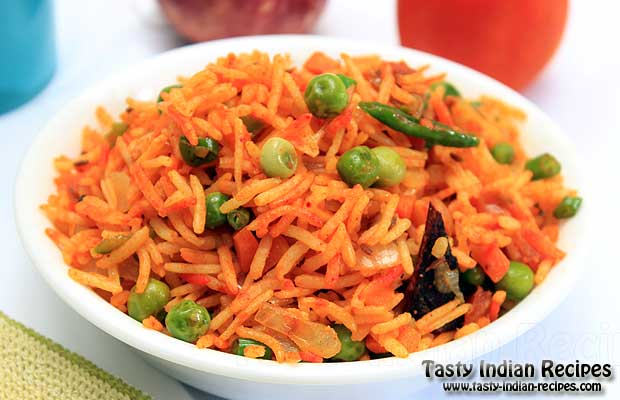 Tawa Pulao is the very popular Street Food of Mumbai, where you can see the vendors quickly cook the vegetables with rice and flavor with Pav Bhaji Masala. The fragrant of this Mumbai's pav bhaji cart can be felt from far away.
Tawa Pulao is also known as Tava Pulao orTawa Pulav. It's called Tawa Pulao, because the vendors prepare it on same tawa in which they make pav bhaji. They already keep everything ready in advance and quickly make it when the orders flow in, to appease the severest of hunger shots. Almost all the pav bhaji stalls serves this delicious rice dish and they make this in big batches and when you will order it, they will give you appropriate portion with a dollop of butter on top.
Tawa Pulao is my favorite rice recipe and it's a quick treat, can be made with leftover rice. But my dear husband likes this pulao so much, hence I specially cook rice to make this pulao. I add Lots of veggies and pav bhaji masala, then flavor it with lemon juice to take this pulao to the whole new level. I most often cook this dish at home and I sometimes add oil and sometimes butter. That really depends on you, if you  want you can skip butter for health reason, still you will not miss that much flavor.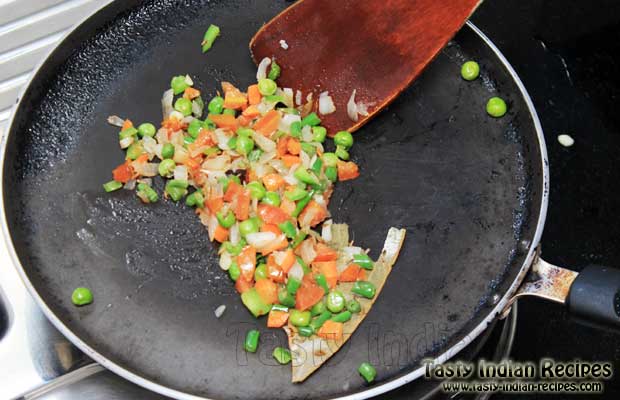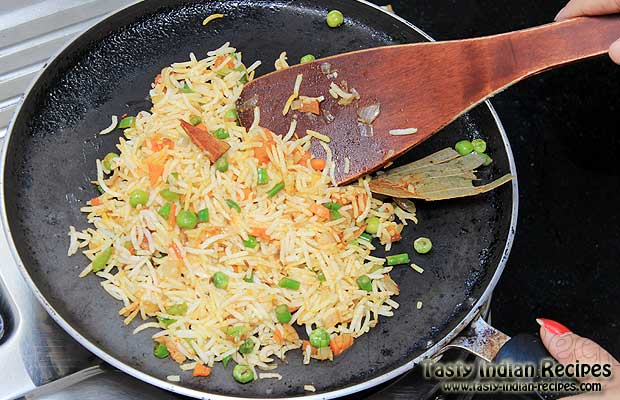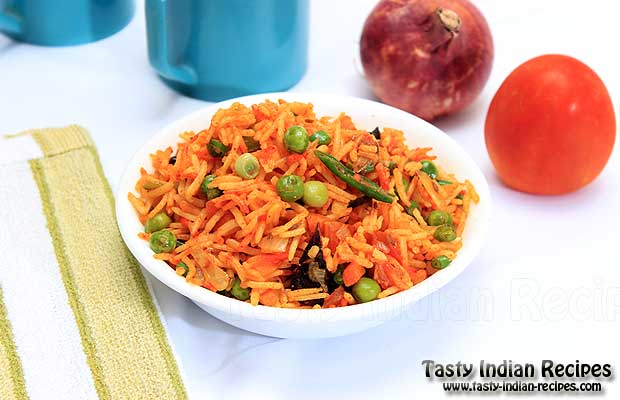 How to make Tawa Pulao Recipe:
Tawa Pulao Recipe is a popular Street Food of Mumbai, where you can see the Vendors quickly cook the Vegetables with Rice and flavor with Pav Bhaji Masala.
Ingredients
2 cups cooked rice
1 capsicum, fine chopped
1 onion, fine chopped
2 tomatoes, fine chopped
1/2 cup green peas /Mattar
2 tablespoon carrot, peeled and chopped
2 tablespoon french beans, chopped
4 green chillies, chopped
1 teaspoon cumin seeds
1 bay leaf
1 small piece of cinnamon
1 clove
2 black peppercorns
1 inch ginger, chopped
4 cloves garlic chopped
1/2 teaspoon red chilli powder
1/4 tsp turmeric powder (haldi)
2 teaspoon pav bhaji masala
Fresh coriander leaves, finely chopped
1 tablespoon butter
Salt to taste
Instructions
Melt the butter either in a pan or on a large tava (griddle) and saute cumin seeds, bay leaf, clove and cardamoms for a few seconds.
Add finely chopped onion, ginger, garlic and green chillies. Mix very well and saute on a medium flame for 1 to 2 minutes. Mix in chopped tomatoes along with vegetables. Add salt and again cook on a medium flame for 3 to 4 minutes, while stirring occasionally.
Slightly mash the vegetables and then add chilli powder, turmeric powder and pav bhaji masala.
Stir in Pav Bhaji Masala and Lemon Juice.
Add cooked rice and about 1/4 cup of water. Stir continue and cook for few more minutes to coat the flavors of vegetables and pav bhaji masala in rice.
Finally add a pinch of food color and mix very well.
Tawa Pulao is ready to serve.
Notes
You can add vegetables of your choice in Tawa Pulao. It's your wish to add carrot and french beans in this Pulao recipe
Tasty Indian Recipes
Chef Tips:
Tawa Pulao is a spicy Indian Street Food, but when you are making it for the kids, then add less chillies. Kids will like it.
If you have large tawa / griddle in you kitchen, then you can cook this pulao on that as well.