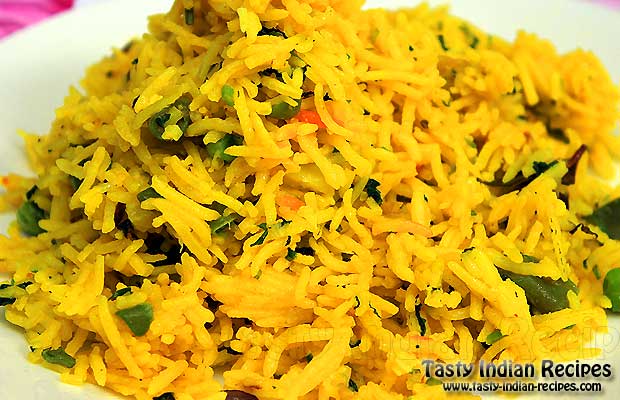 Kesar Rice are the sweet rice recipe incorporated with milk, saffron and other flavorful ingredients. This is one of the best sweet rice recipe of Punjabi delicacy. You can serve these delicious rice as it is or with the Sindhi sai bhaji dish. The fragrance of cardamoms, saffron and dry fruits spreads its flavor all over at the time of cooking. I like to add some vegetables in it.
Preparation time: 10 minutes
Cooking time: 20-25 minutes
Servings: 6-8 persons
Ingredients:
2 cups rice
2 cups milk sterilized
1/4 tsp saffron strands (kesar)
1 tablespoon carrot, chopped
1 tablespoon green peas
1 tablespoon beans
6 cups sugar
3 tbsp ghee
1 black cardamom crushed
4 green cardamoms crushed
2-3 black peppercorns
2 cloves
1/2 teaspoon turmeric powder
1 inch cinnamon bits
Few almonds blanched
Few cashew nuts blanched
Few pistachios sliced
How to make Kesar Rice:
Wash and soak the rice in water for 20 minutes.
Mix the saffron with the milk and keep aside.
Melt the ghee in a pan.
Add cardamoms, peppercorns, cloves and cinnamon.
Saute for few seconds.
Add rice along with 2 cups of sugar.
Leave to cook for 7-8 minutes.
When the water is partially evaporated then add saffron with the milk.
Stir in sugar and turmeric powder.
Cook until rice tenders.
Separate each grain of rice with the help of fork.
Garnish with dry fruits and serve hot.
Chef Tips:
You can make kesar rice in the pressure cooker as well, for that add water very carefully to make each grain separate.
Sterilize the milk very well before adding in the dish.
If your sugar is big in size then grind and add in the rice.
You may or may not add vegetables in it.