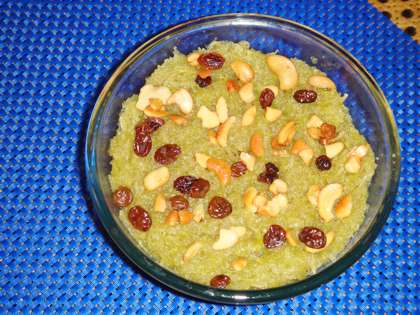 Lauki halwa is a delicious combination of bottle gourd, milk, sugar and pure ghee. This halwa is a great and Ideal, refreshing Indian dessert, that is specially served during summers.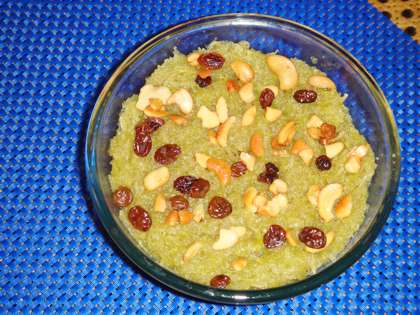 Preparation time: 10-12 minutes
Cooking time: 20 minutes
Servings: 6-8
Ingredients:
500 gm lauki (bottle gourd)
1/2 tsp crushed green cardamoms (chotti elaichi)
1 cup sugar
4 tbsp pure ghee
4 cups condensed milk
For garnishing:
Few pistachios chopped
Few cashew nuts chopped
Few almonds chopped
Few raisins
How to make Lauki Halwa:
Peel the lauki and grate in a big bowl.
Heat a big wok or kadhai and melt the ghee in it.
Add grated lauki and stir continue.
The liquid of lauki will come out, but then too, stir constantly to remove the bitterness and rawness of the lauki.
Gradually add milk and sugar into it by mixing continuously.
Reduce the flame and let lauki to cook till the milk evaporates and lauki gets fully cooked.
Stir occasionally so that the mixture does not stick.
Let the milk dry up completely and then add remaining ingredients.
Now the mixture will start loosing, but you need to keep stirring till all the moisture dries up.
Finally garnish the lauki halwa with garnishing ingredients of your choice and your requirement.
Serve immediately to enjoy the real taste of halwa.