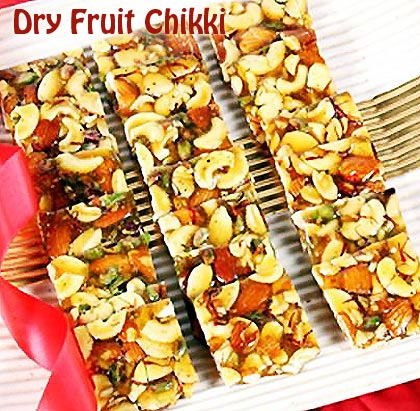 Dry Fruit Chikki is the special mixture of plenty of healthy dry fruits and nuts It is a famous delight or sweet to celebrate various Indian festivals such as Diwali. This chikki is popular as a Sindhi vado as well. This brittle can be eaten at the time of winter as a sweet dish, learn to make easy, quick and tasty homemade dry fruit chikki.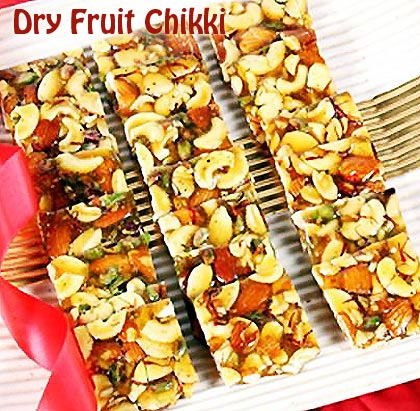 Preparation time: 10 minutes
Cooking time: 20-25 minutes
Servings: 8
Ingredients:
1 cup cashew nuts
1 cup almond
1/2 cup raisins
1 cup pistachios
1/2 cup walnuts
2 tbsp dried dates
2 tbsp poppy seeds
1 tbsp butter
300 gms sugar
4 tbsp water
2 green cardamoms crushed
1 black cardamom crushed
How to make Dry fruit chikki:
Roast the almonds and leave to cool.
Chop all the dry fruits in mixed shapes, some may by thinly chopped, some slices, some shredded, etc.
Heat a big kadhai or pan and add water.
Also add sugar. Mix well and keep stirring until sugar dissolves.
Add crushed cardamoms and stir with the poppy seeds.
Stir continuously and break the lumps of the mixture.
When the sugar starts changing its color, preferably little brown in color, then immediately add all the chopped nuts.
Stir constantly for the proper distribution of nuts in whole vara.
Grease a big plate with the butter.
Spread the hot mixture on a greased tray.
Spread evenly to make equally shaped vara.
Leave to cool down completely until become crispy and perfect nutty chikki.
When it is completely hard then cut it in the desired shape or in the pieces as much as you want.
Store in air tight container and enjoy as and when you want.
Chef Tips:
Always store this chikki or vara in air tight container to keep fresh and crispy for long time.
You can store this vara at least for 45 days, if kept at proper temperature.