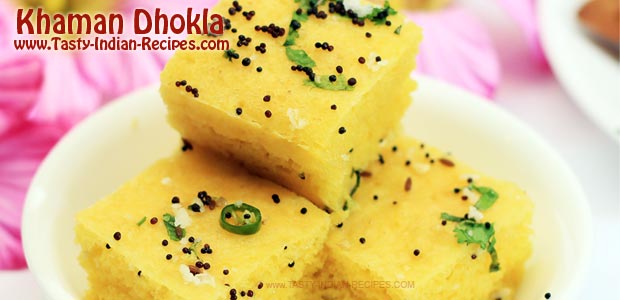 Khaman Dhokla is typically made in Gujarati style. It is the combination of rice, dal and curd. Although the recipe is the special delicacy of Gujarat but it is popular all over in India. Khaman Dhokla is one of the most tastiest Indian snack dish, best to serve with evening tea.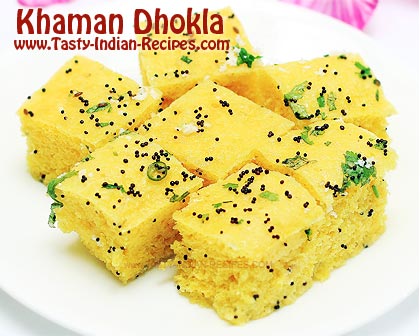 Preparation time: 10 minutes
Cooking time: 15 minutes
Servings: 6
Ingredients:
1-1/2 cups rice
1-1/2 cups urad dal (split white lentils)
1 cup yellow moong dal
2 tbsp sour curd
A pinch of asafoetida
A pinch of baking soda
1/2 tsp ginger crushed
2 green chillies thinly chopped
1/2 tsp red chilli powder
Few bits of curry leaves
1 tsp mustard seeds
Fresh coriander chopper
Salt to taste
1 tsp oil
How to make Khaman Dhokla:
Wash and soak the dal and rice separately in sufficient amount of water for few hours.
Combine and grind dal and rice together.
Make a smooth paste by adding little amount of water.
Now add curd, salt, asafoetida and baking soda.
Mix well and keep the batter for 3-4 hours at a room temperature.
After 3-4 hours, mix all the ingredients into the batter except oil, curry leaves, mustard seeds, coriander and green chillies.
Pour the mixture in to a greased aluminum plate or bowl.
Place on top of the cooker or steamer.
Make sure any vessel you are using should be filled with 50% of water.
Steam for about 10-12 minutes and then check with the knife.
If knife comes out clean that means dhokla is done. If not then you may need to keep them for more time on heat.
When the dhokla are completely ready, then cut them into desired pieces.
Heat oil in a saucepan and add curry leaves, mustard seeds and green chillies.
When the seeds starts to splutter then pour it over the dhokla.
Garnish with thinly chopped coriander and serve with green chutney and sweet chutney.
Chef Tips:
The prepared batter (mixture of dal and rice) can be refrigerated for 2-3 months and use whenever required.
You may add a pinch of sugar to make more flavorful khaman dhokla.