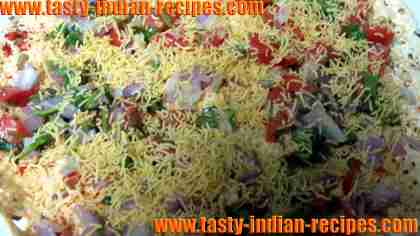 Masala Puri is the special Gujarati delicacy cooked with whole wheat flour, maida and spices. It is an idle option can be served either as a breakfast recipe or as a snack dish.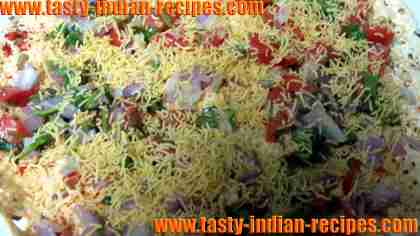 Preparation time: 15 minutes
Cooking time: 5 minutes
Servings: 6
Ingredients:
1 cup whole wheat flour
2 tbsp all purpose flour (maida)
A pinch of asafoetida
A pinch of baking soda
A pinch of ajwain
1/2 tsp red chilli powder
1 green chilli thinly chopped
Salt to taste
Little bit of fresh cilantro chopped
Oil to deep fry
For Garnishing you need:
1 onion thinly chopped
1 tomato thinly chopped
Chaat masala to sprinkle
2 tsp nylon sev
How to make Masala Puri:
Sieve both the flours and combine them in a big bowl.
Add salt and all other ingredients.
Add enough water and knead into a firm dough.
Cover and keep the dough aside at least for 20-25 minutes
Heat sufficient oil in a pan.
Take small portions or balls of the dough and roll out to make small puri.
Deep fry the puris in hot oil until turns into nice golden brown in color.
Garnish with garnishing ingredients.
Serve masala puri on the spot with green chutney and tomato ketchup.
Chef Tips:
If you do not want oily masala puris then you can bake them in the oven as well.
Another way is to shallow fry them on hot tawa with little amount of oil.
Adjust the spices as per your requirement.
Serve these masala puris immediately else become soggy within 15-20 minutes.