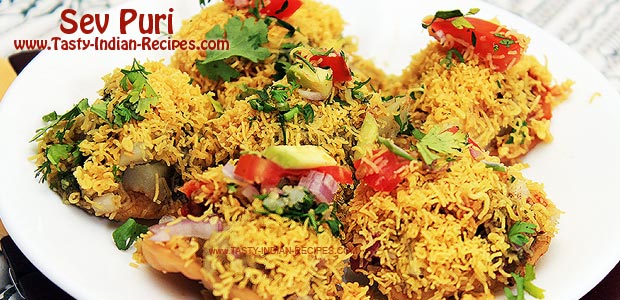 Sev Puri is a most popular street chaat that can be easily made with simple ingredients which are available all the time in our kitchen, you just need to buy ready-made puris from outside and fill them with the toppings of your choice and chutney.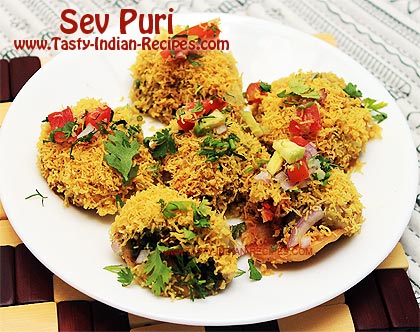 Preparation time: 5 minutes
Cooking time: 10
Servings: 4
Ingredients:
12 crispy and flat puris (store-bought)
2 tbsp onion thinly chopped
2 tbsp tomatoes thinly chopped
1/2 cup potatoes (boiled and mashed)
2 tbsp grapes chopped
2 tbsp pomegranate seeds (anar)
2-1/2 tbsp tamarind chutney
2 tbsp green chutney
1/2 cup thick curd
1/2 cup nylon sev
2 green chillies thinly chopped
2 tbsp fresh coriander leaves chopped
Chaat masala to sprinkle
Salt as per taste
How to make Sev Puri:
Arrange 4 puris in 3 individual serving plates (for 3 servings).
We are using flat puris, hence no need to make hole in the centre of the puri.
Now arrange thinly chopped onion, tomatoes and mashed potatoes on each puri.
Pour little amount of tamarind and green chutney over each puri.
Also spread little amount of curd.
Sprinkle some salt, green chillies and chaat masala powder.
Now spread good amount of nylon sev over all and again sprinkle some chaat masala powder.
Finally spread fresh coriander, few chopped grapes and pomegranate seeds.
Serve immediately.
Chef Tips:
I have used flat puris for making sev puri, but you can take the puris which are used for making pani puri. If you are using pani puris then make a hole in the center and fill the stuffing.
You can make this delicious sev puri with or without adding curd.