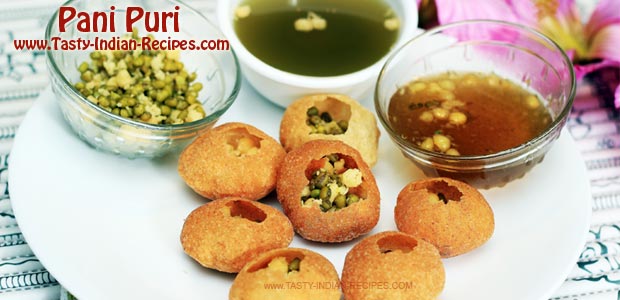 Pani Puri is my favorite evening chaat, and I think it's the most favorite Indian Chaat of every Indian out there. Pani Puri is also famously known as golgappa or puchkas. Pani puri is extremely easy in making and wonderful in eating, you can easily make puris in your house, that are much better from the outside puris. Learn how to make home-made pani puri and enjoy with your friends and family.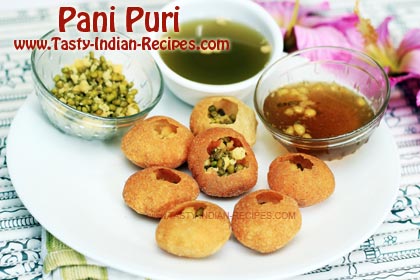 Preparation time: 10 minutes
Cooking time: 30 minutes
Servings: 6
Ingredients:
For making puris you need:
2 tbsp all-purpose flour (maida)
1-1/4 cup suji (semolina/rava)
A pinch of baking soda
3/4 tsp salt
Oil for frying
For making pani of pani puri you need:
1 cup tamarind pulp (imli)
2-1/2 tbsp jaggery (gur)
1-1/2 tbsp roasted jeera
2 green chillies
2 tbsp fresh coriander leaves
2 tbsp fresh mint leaves
1-1/2 tsp black salt
2 tbsp fresh crispy Boondi
For the Stuffing of pani puri you need: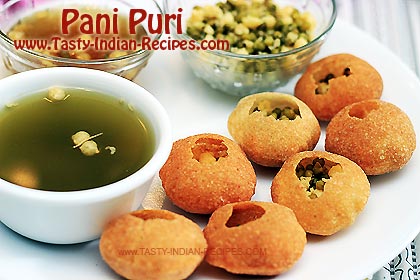 How to make Pani Puri:
In a big vessel combine all the ingredients of making homemade puris.
Gradually add little amount of warm to make a stiff dough.
Cover the dough with damp muslin cloth and keep aside for 25-30 minutes.
Make small balls from the dough and again keep them under the damp cloth.
Take the balls one by one and roll out each into thin roti.
While rolling the roti you may use dried flour (maida) to dust.
Another way is you can make a very big roti and then make the small rounds from it with the help of round cookie cutter or use any small serving bowl or the lid of any container/jar.
Heat generous amount of oil in a pan and make it piping hot.
First time pour only 1 puri into hot oil to check whether the oil is ready to puff up the puri or not.
If oil seems hot enough and the puri comes out puffy and crunchy then you may add few at a time.
While frying the puris, stir them constantly to avoid the burning, also take care of the color and do not let them get dark in color.
Press the puris in the center and allow them to puff up.
Fry until turns into little brown and crispy puffed up puris.
Fry evenly from both the sides and take out on oil absorbent paper or on a clean kitchen napkin.
Allow the puris to cool completely and then store them in air tight container.
Lets start making the pani of pani puri.
Melt the jaggery in a vessel and keep aside.
Combine the green chillies, coriander and mint leaves.
Add little amount of water and make a fine paste.
Mix all the ingredients of pani, also add green paste and melted jaggery.
Adjust with the spices and mix very well.
Add sufficient amount of water and remove out the rough bits if so.
Pass the pani of pani puri once through the sieve and remove out the thick pulp.
Keep the pani in the refrigerator for few hours.
In a small bowl, put the mashed potatoes and mix the boiled chickpeas and salt.
At the time of serving pani puri, take few puris in individual serving plates, make a small hole in the center of the puri just by tapping very slowly.
Take out the prepared pani from the refrigerator and stir to mix all the spices.
Fill some stuffing of mashed potatoes, soaked boondi and boiled green moong. Pour little bit of khajur imli ki chutney and finally dip the puris in chilled pani.
Enjoy yummy and fresh homemade pani puri.
Chef Tips:
These homemade puris can be stored for 10-15 days in air tight container.
You can refrigerate pani of pani puri for 2 days.