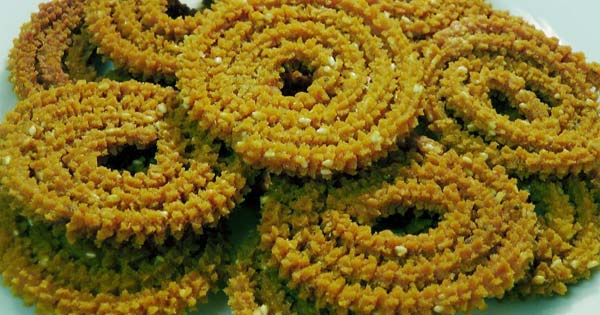 Moong Dal Chakli is a traditional style chakli recipe made in the combination of rice flour, wheat flour and yellow moong dal. This is the special chakli made in Gujarati style and can be stored for many days.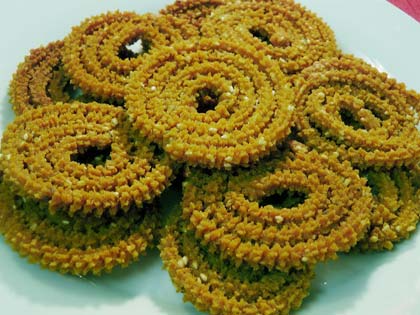 Preparation time: 15 minutes
Cooking time: 10 minutes
Servings: 20 moong dal chakli's
Ingredients:
1 cup moong dal
2 cups rice flour
4 tbsp whole wheat flour
A pinch of ajwain
2 green chillies thinly chopped
A pinch of asafoetida
A pinch of baking soda
1/2 tsp red chilli powder
1/2 tsp turmeric powder
Fresh coriander leaves chopped
Salt to taste
Oil to deep fry
How to make Moong Dal Chakli:
Wash the moong dal and soak into water for about an hour.
Boil and then grind to make a smooth paste.
Combine the paste of moong dal and the remaining ingredients.
Heat sufficient oil in a pan.
When the oil seems hot then take out few drops of hot oil and drizzle over the chakli mixture.
Mix very well and knead the dough by gradually adding water.
Make a stiff dough to make the chakli.
Take a small ball of a dough, keep on a plastic sheet and then give a shape like chakli.
Make all the chaklis like this and drop into hot oil.
Put few chaklis at a time in hot oil and fry until turns into nice golden brown in color.
Serve with coriander chutney and tomato sauce.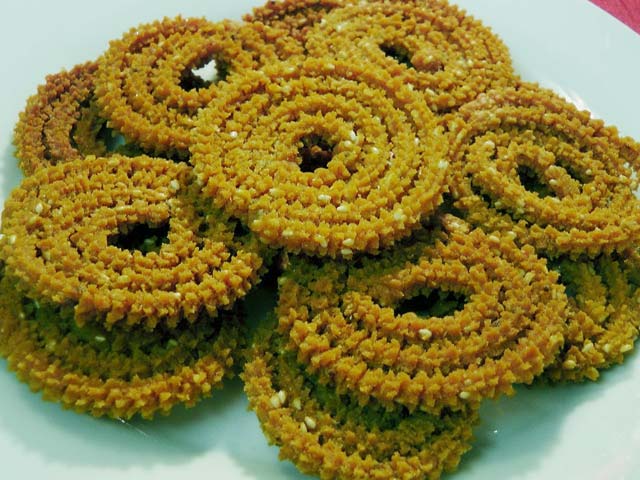 Chef Tips:
You can knead the dough with the help of food processor.
These moong dal chaklis can be stored for 2-3 days, you just need to put them in air tight container.
For making proper Gujarati style chaklis with the original shape, you need to buy chakli moulds or icing bag with star nozzle. They are easily available in the market.