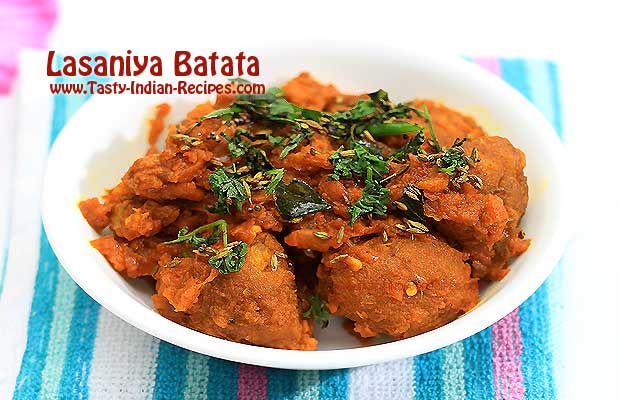 Lasaniya Batata is one of the very famous Indian vegetarian Gujarati dish. Baby potatoes are simply turned into mouth-melting spicy and tasty curry recipe, flavored with garlic, yogurt and spices.
Prep time:
Cook time:
Total time:
Yield: 4 servings
Ingredients:
2 cups bengal gram flour (besan)
1/2 kg baby potatoes
1 cup yogurt
1 tsp cumin seeds
1 tbsp garlic paste
1/2 tsp turmeric powder
1/2 tsp red chilli powder
1 green chilli finely chopped
2 tsp coriander powder
3/4 tsp garam masala powder
Fresh coriander leaves chopped
Salt to taste
Oil for frying
How to make Lasaniya Batata :
Peel all the baby potatoes and keep in water for some time.
Add some salt and make sure, potatoes are dip into water.
After few minutes, Take off the potatoes from water and slit them from the center.
Heat good amount of oil in a frying pan and fry the potatoes till turns into nice, golden color.
Heat another pan and add 1 tbsp of oil.
When the oil starts heating, add cumin seeds along with chopped green chilli.
Stir fry on low flame till the seeds starts popping up.
Now mix garlic paste and stir fry for a while.
Make sure, garlic should not turn brown.
Add gram flour, salt, red chilli powder, turmeric powder, coriander powder and garam masala powder.
Stir fry for 2-3 minutes continue on a moderate heat.
Slowly add yogurt and mix well.
Add 1/4 cup of water and adjust with seasoning.
Throw in fried potatoes, mix very gently and cover the pan with its lid.
Leave to cook for 2-3 minutes on a very low flame.
Garnish with good amount of chopped coriander and serve hot with rice or roti.