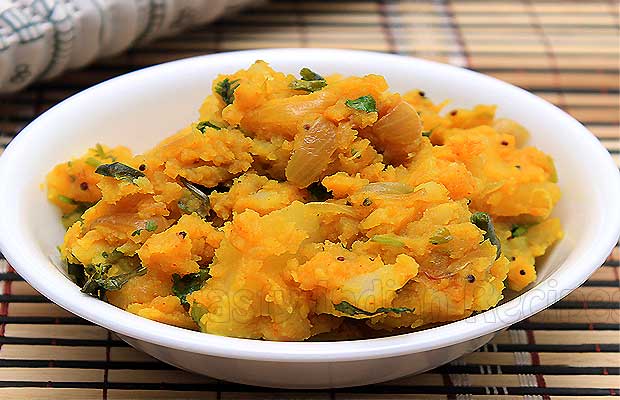 Aloo Bharta is an Indian style flavored mashed potatoes recipe, specially served in several parts of North India. Delicious aloo bharta is a great option to serve with hot Indian rotis or butter naan.
Preparation time: 5 minutes
Cooking time: 10-15 minutes
Makes 4 servings
Ingredients:
4-6 medium size potatoes
1 onion thinly chopped
1 piece ginger chopped/grated
4-5 cloves garlic minced
Few curry leaves
1/2 tbsp mustard seeds
A pinch of asafoetida
A pinch of ajwain
1/2 tsp cumin seeds
2 tbsp oil/ghee
1/2 tsp turmeric powder
1 tsp dried coriander powder
Fresh coriander leaves chopped
1 tbsp dried red chilli flakes
Salt to taste
How to make Aaloo Ka Bharta:
Boil the potatoes, peel and mash in a big bowl.
Heat the oil in a pan and add curry leaves, mustard seeds and cumin seeds.
Allow the seeds to splutter and add ginger, garlic and chopped onion.
Saute for few seconds until onion turns soft.
Add mashed potatoes, salt, ajwain, asafoetida and spices.
Also mix the red chilli flakes.
Mix all the ingredients very well and cook on medium high flame for about 5-6 minutes.
Finally garnish with thinly chopped coriander leaves and serve hot with Indian chapatis.
Chef Tips:
While serving this delicious aloo bhartha you can pour little ghee over it and serve yummy.
If you want to make it spicy then add green chillies as per your requirement.