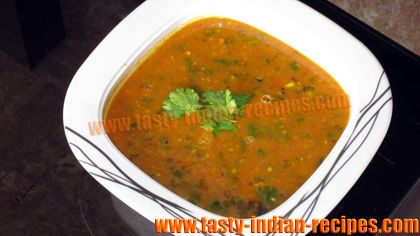 Punjabi kadhi is the delicious preparation of besan, curd and spices. This kadhi is one of the most tastiest recipe of Punjabi Cuisine and is famous all over in India. People use the same method to make this kadhi, just adding their favorite vegetables, but ultimately taste of Punjab comes in this kadhi recipe.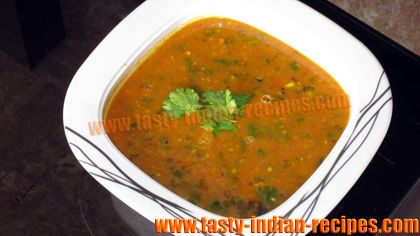 Preparation time: 8 minutes
Cooking time: 30 minutes
Servings: 4 persons
Ingredients:
1 cup bengal gram flour (besan)
2 tbsp fresh yogurt (curd, dahi)
A pinch of asafoetida (hing)
2 onions thinly chopped
2 tomatoes thinly chopped
3-4 green chillies sliced
2-3 cloves garlic chopped
1 tsp red chilli powder
1/4 tsp mustard seeds
3-4 curry leaves
1/2 tsp turmeric powder
Fresh coriander leaves chopped
2 tsp vegetable oil
1/2 tsp ghee
Salt to taste
How to make Punjabi Kadhi:
Heat the oil in a pan, add besan.
Stir the besan continue until turn into light brown in color.
Add curd, asafoetida and mix well.
Add 2 cups of water.
Leave to boil.
On the other side heat a sauce pan and 1/2 tsp of ghee.
Add curry leaves and mustard seeds. Leave the seeds to crackle.
Add garlic. Saute for few seconds.
Add the chopped onions, fry until onion translucent.
Add the chopped tomatoes, salt, red chilli powder and turmeric powder.
Cook for 3-4 minutes by stirring occasionally.
Pour this mixture into the boiling mixture of the pan.
Cover the pan, simmer the flame and leave to cook for 6-8 minutes.
Check the kadhi, which must have become thick now.
Garnish with chopped coriander and serve hot with steamed rice.
Chef Tip:
You can add vegetables like, beans, carrot, brinjal, pumpkin, etc in this Punjabi kadhi.