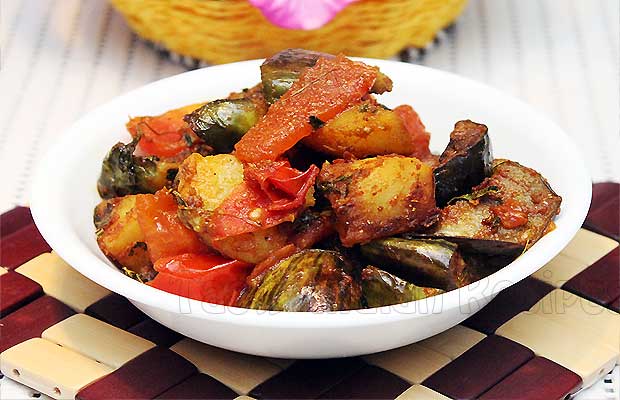 Eggplant Potato Curry or vangi batata bhaji is one and same thing. It is one of the most famous north Indian side dish, simply cooked with potatoes and eggplant, flavored with mild spices to give a proper texture to the dish. Potatoes and brinjals (aloo and baingan) gives a great taste when cooked together.
Prep time:
Cook time:
Total time:
Yield: 4 servings
Ingredients:
300 gm Eggplants (baingan) chopped
4 big Potatoes, chopped
1 small onion finely chopped
4 tomatoes chopped
2 green chillies finely chopped
1/2 tsp cumin seeds
1/2 tsp red chilli powder
1/2 tsp turmeric powder
3/4 tsp garam masala powder
2 tsp coriander powder
1/2 tsp lemon juice
1/2 tsp sugar
Salt to taste
Fresh coriander leaves finely chopped
4 tbsp oil
How to make Eggplant Potato Curry:
Stir fry the chopped eggplant and potatoes and keep aside.
Heat same pan (in which you fried the potatoes and eggplants) and add cumin seeds.
When the seeds starts spluttering, add green chillies.
Saute for few seconds and then add chopped onion.
Stir fry until onion turns translucent.
Add chopped tomatoes, potatoes and eggplant.
Mix salt, spices and remaining ingredients very well.
If you want to make it as a medium dry dish to serve as a side dish, then add only 1/2 cup of water. And if you want to make it just like a gravy dish, then add about 4 cups of water.
Cover the pan, simmer the flame and leave to cook for about 6 minutes until vegetables are done.
Garnish with good amount of chopped coriander and serve hot with your favorite roti/ chapati, naan or rice.