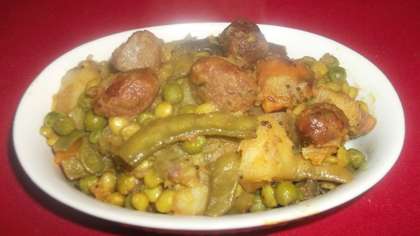 Undhiyo is the most famous Gujarati delicacy, cooked with potatoes, brinjals and some unique ingredients. This dish can be served either as a main dish or as a side dish, however you serve, believe me it is all time hit Gujarati dish.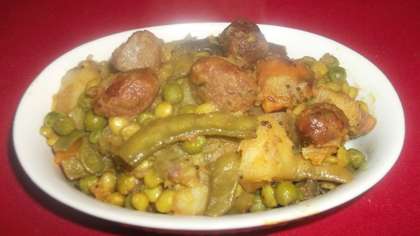 Preparation time: 20 minutes
Cooking time: 30 minutes
Servings: 4
Ingredients:
1/2 kg medium size potatoes (peeled and chopped)
4 bay brinjals (baingan)
1 cup broad beans chopped
10 cloves garlic paste
1 tsp ginger paste
1/2 cup yam (kand)
2 tbsp oil
A pinch of asafoetida (hing)
2 cups raw banans (peeled and chopped)
1/2 cup shredded coconut
3-4 green chillies finely chopped
1/2 tsp turmeric powder
1-1/2 tsp mustard seeds
2 tbsp cilantro finely chopped
Salt to taste
For making Muthiya you will need:
1/2 cup Bengal Gram Flour (besan)
1/2 cup fenugreek Leaves (kasuri methi)
1 inch ginger
2-3 green chillies
Oil for deep-frying
Salt to taste
How to make Undhiyo :
Wash the brinjals in normal tap water, slit and cut into 4-5 pieces each.
Combine all the ingredients of making muthiya without adding oil.
Make a soft and firm dough.
Divide the dough into small equal portions and shape each into one-inch long half-inch thick rolls.
Heat sufficient oil in a deep-fryer.
Deep fry the prepared rolls till golden brown,  remove and keep aside.
Heat another pan and add 2 tbsp of cooking oil.
Add mustard seeds along with asafoetida.
When the seeds starts crackling , add chopped beans, salt and spices.
Make the layers of rest of the vegetables by spicing up them with some salt and turmeric powder.
Stir fry for 6-7 minutes on high flame heat.
Now add 2 cups of water, cover the pan and simmer the flame.
Leave to cook for about 12-15 minutes.
Now gently mix the fried muthiyas and again simmer the gas.
We just need to cook it for last 8-10 minutes at low temperature.
Gently stir the vegetables occasionally.
Garnish the dish with grated coconut.
Serve hot with Indian roti or naan.