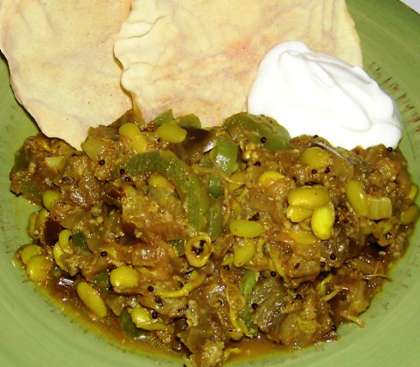 Vangi Ani Val is a medium dry main course dish, cooked with eggplant (brinjal) and val beans, flavored with Drumstick leaves and grated coconut.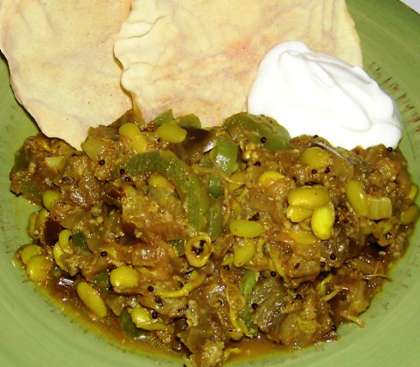 Preparation time: 15 minutes
Cooking time: 20-25 minutes
Servings: 4
Ingredients:
2 medium size eggplant (brinjal) cubed
1 cups sprouted and skinned Val Beans
2 medium size drumsticks ( each cut into 1 inch pieces)
A pinch of asafoetida
1/2 cup coconut (scraped and grated)
1 big onion finely chopped
1 tsp mustard seeds
1 tsp cayenne powder
1-1/2 tsp goda masala
1/2 tsp turmeric powder
Salt to taste
2-3 tbsp cooking oil
How to make Vangi Ani Val:
Boil the drumsticks until are easily opened.
Drain and set aside.
Heat the oil and saute the mustard seeds with the asafoetida.
When the seeds start to pop up, add chopped onions and fry till golden.
Add the val , eggplant, spices and salt.
Mix well and add little water and cook until the beans are soft but not mushy.
Cook over high heat until the water evaporates.
Remove from the heat and finally mix the grated coconut and drumsticks.
Stir gently and serve hot.