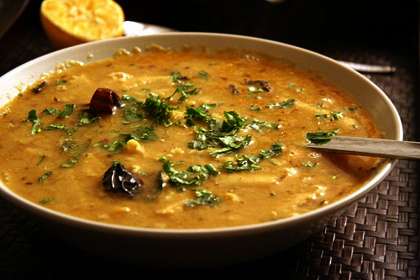 Dal dhokli is a delicious Gujarati Snack dish made with combination of dals and then served by adding dhoklis. It is a typical way to serve Gujarati Delicacy. The dhoklis are made from the flour and creates the unique taste at the time of serving. This dish can be served at any time you want. It is one of the most popular recipe of Gujarati Cuisine. But truly it is famous in all over India and we all people enjoy it a lot.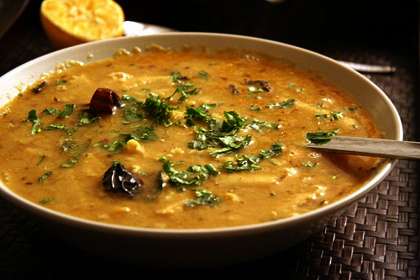 Preparation time: 25 minutes
Cooking time: 30 minutes
Servings: 3-4 persons
Ingredients:
For making dal you need:
3/4 cup toor (arhar) dal
1/4 cup green moong dal
2 tomatoes chopped
5-6 green chillies chopped
A pinch of hing
2 tsp ginger-garlic paste
1/2 tsp red chilli powder
1/2 tsp turmeric powder
1/2 tso garam masala powder
Fresh chopped cilantro
1 tsp oil or ghee
2 tsp lemon juice
Salt to taste
For making Dhokli you need:
1 cup besan (bengal gram flour)
2 cups whole wheat flour
1 tsp red chilli powder
1 tsp ghee
Salt to taste
For the tempering you need:
1/2 tsp sunflower oil
1 tsp cumin seeds
Few curry leaves (kadi patta)
How to make Dal Dhokli:
In a mixing bowl combine all the ingredients of dhokli, add water and knead the soft dough.
Keep this dough aside at least for 20 minutes.
Divide the dough into equal parts and roll out each and every portion into 4-5 inch diameter rounds.
On the other side heat a griddle or tawa and roast the rolled out roti lightly from both the sides.
Place on the flat surface and cut into round, square, diamond or in any desired shape.
Make all the roti's in the same way and keep aside.
In a pressure cooker mix both the dals, add 2 cups of water and boil them by getting 6-8 whistles.
Heat the kadhai and add oil.
Add hing, green chillies and ginger-garlic paste.
Saute and add tomatoes.
Cook on low flame. Add salt, red chilli powder and turmeric powder. Mix well.
Add cooked dal and 1 cup of water. Bring to a boil.
Add garam masala powder and lemon juice. Mix well.
In the meantime heat a sauce pan and add oil.
Add curry leaves and cumin seeds. Leave cumin to crackle well and pour into the boiling dal.
Now put the dhoklis in the boiling dal, leave to cook until dhoklis are tender.
Garnish with fresh cilantro and serve hot in serving bowls.
Chef Tips:
For making dal dhokli you can also use chana dal.
Add dhokli's just before few minutes of serving.
For making dal dhokli you may adjust the water as per the consistency you want to eat.