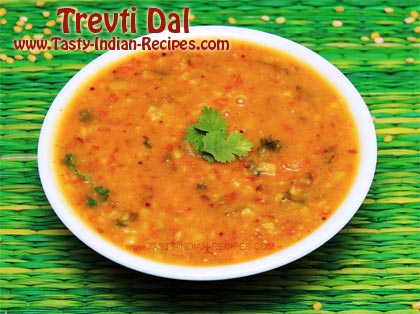 Gujarati Trevti Dal is a very famous dal dish in every restaurant of India. A relish combination of chana dal, moong dal and tuvar dal, cooked in onions, tomatoes, ginger and garlic.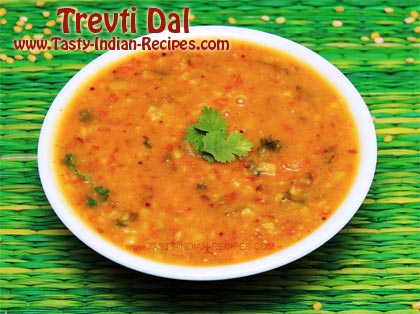 Prep time: 5
Cook time:
Total time: 25
Servings: 4
Ingredients:
1/2 cup Chana dal
1/2 cup Tuvar dal
1/2 cup Moong dal
4 green chillies finely chopped
4 cloves garlic chopped
1 inch ginger minced
1 big onion finely chopped
2 tomatoes chopped
2 tsp lemon juice
1/2 tsp turmeric powder
Salt to taste
3 tbsp cooking oil
Fresh coriander leaves chopped
For tempering of dal you will require:
A pinch of asafoetida (hing)
2-3 bay leaves
4 cloves
2 Kashmiri red chillies
How to make Trevti Dal:
Soak all the dals at least for one hour separately in bowls.
Combine and pressure cook the dals until tenders and then Keep aside.
Heat oil in a pan and stir fry the tempering ingredients until slightly browned.
Add ginger, garlic, chillies and stir fry for 2-3 minutes.
Now add chopped onions and tomatoes, and season with salt and turmeric powder.
Stir continue on medium flame until the mixture is done.
Mash the cooked dal and add 4 cups of water.
Again keep dal on a medium high flame until it boils for few minutes.
Finally add lemon juice and good amount of coriander leaves.
Serve hot with rice, roti and papad.