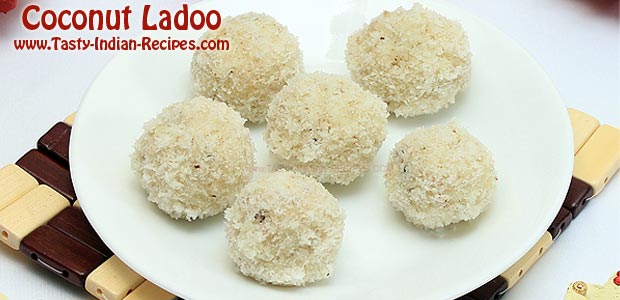 Coconut Ladoo is the most easiest Indian sweet dish, made with fresh coconut, milk and sugar. One of our reader asked us about Coconut Ladoo Recipe and there fore I  decided to make these ladoo's before Diwali and publish step by step images for convenience of our readers.
Try to make these ladoos in your own kitchen and get the round of applause from your family and friends. Your kids are definitely gonna love these ladoos and believe me, you can make them at any time in just few minutes.
Coconut Ladoo's can also be served during Diwali and other Festivals.  Lets start making Coconut Ladoo Recipe / Nariyal Ke Ladoo Recipe.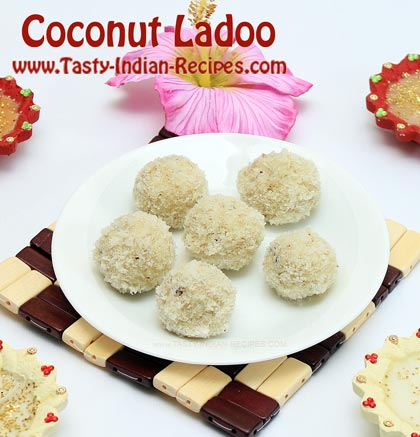 How to make Coconut Ladoo Recipe:
Coconut Ladoo is the most easiest Indian Sweet Dish, made with Fresh Coconut, Milk and Sugar. These Ladoo are generally made on special Indian Festivals Such as Diwali, Holi and Raksha Bandhan.
Ingredients
1-1/2 cups fresh grated coconut
1-1/2 cups milk
1/2 cup sugar
1/2 cup dry coconut powder
Instructions
Heat a pan and add fresh grated coconut along with milk. Stir continue on a medium high flame for about 8-10 minutes. Add sugar and mix well for few more minutes.

Allow the mixture to cool down and then make small balls from it. Roll them over dry coconut powder. Enjoy healthy and homemade coconut ladoo as and when you want.
Notes
You can refrigerate these ladoo for 3-4 days.
Tasty Indian Recipes
Further Reading:
You can make many such recipes from coconut. Such as Coconut Podi, Coconut Pudding, Coconut Cupcakes etc.