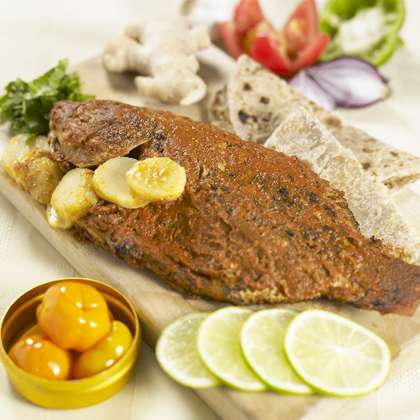 Steamed Masala Fish is simply made with the fresh fish fillets, marinated in the green flavored masala paste, wrapped in the banana leaves and then steamed on the simmer flame. The delicious steamed fish recipe is stolen from the treasure of Bengali cuisine. The recipe is truly mouth melting when is to be garnished with salad and chutney.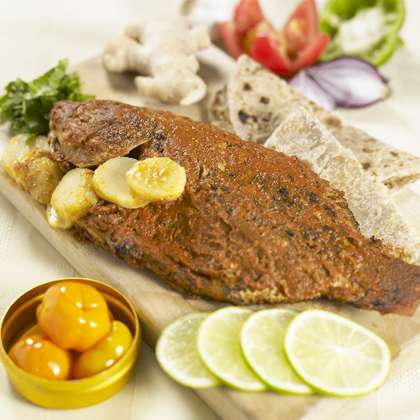 Preparation time: 20 minutes
Cooking time: 40-45 minutes
Servings: 2
Ingredients:
200 gms fish fillets
1 tbsp coconut shredded
4-5 cloves garlic minced
1 inch ginger
2 green chillies
1 tsp red chilli powder
1 tsp coriander powder
1/2 tsp cumin seeds powder
1/2 tsp mustard seeds powder
1 tsp garam masala powder
1 tbsp butter
1/2 tsp black pepper powder
1 lemon juice
Few coriander leaves
Few mint leaves
Salt to taste
Few banana leaves to wrap
How to make Steamed Masala Fish:
Clean and wash the fish fillets thoroughly in normal cold water.
Run the knight horizontally and slits form both the sides of fillets.
Apply little bit of salt and lemon juice all over on the fillets and keep aside at least for 20 minutes.
Take the banana leaves and apply little bit of butter on each banana leaf. Keep aside.
In the meantime combine the coconut, green chillies, garlic, ginger, coriander leaves and mint leaves.
Blend them to make a smooth masala paste.
Add salt and all the spices in the masala paste.
Now spread this masala stuffing inside and outside the fish fillets and leave to set for 10 more minutes.
Wrap each of the fillet in the banana leaf.
Heat the steamer and arrange these marinated fish fillets in the steamer and leave to steam for about 30 minutes.
Simmer the gas and keep checking.
Remove from the gas and serve hot with steamed rice, green chutney and salad.
Chef Tips:
If you do not have steamer then you may use pan or wok having the tight lid.
For the proper steaming in the pan or in any vessel, make the dough of wheat flour, stick on the edges of the vessel and then put the tight lid.
You may keep 2-3 fish fillets at a time in the steamer.