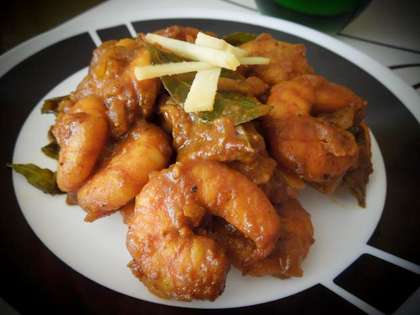 Prawns masala is the delicious preparation of prawns in the Indian herbs and spices. Here prawns are made in rich Indian masala and then served with roti or rice.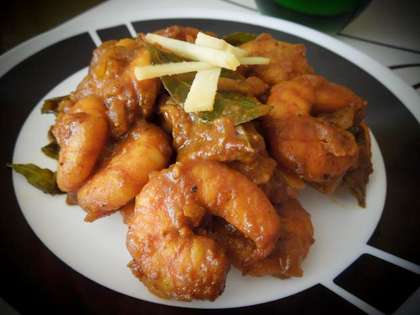 Preparation time: 15 minutes
Cooking time: 25 minutes
Servings: 4
Ingredients:
500 gms prawns
2 onions sliced
4 tomatoes chopped
1 inch ginger
8 cloves garlic
8 green chillies
4 curry leaves
1/2 tsp mustard seeds
1/2 tsp sesame seeds
1/2 tsp fennel seeds
1/2 ts cumin seeds
1/2 tsp red chilli powder
1/4 tsp turmeric powder
2 tsp coriander powder
2 tbsp vegetable oil
Fresh cilantro chopped
1/2 tsp fresh lemon juice
Salt to taste
Whole garam masala:
1 whole kashmiri red chilli
1 bay leaf
2 cloves
3-4 black peppercorns
3-4 bits of cinnamon stick
1 green cardamom
1 black cardamom
How to make Prawns Masala:
Wash and clean the prawns thoroughly in water for about 4-5 times.
Apply little bit of salt, red chilli powder and lemon juice on the prawns and keep aside.
Heat the pan and add oil. Add the slices of onion.
Fry until onion turns into nice brown color.
Remove from the oil and leave to cool.
Roast all the seeds in a saucepan, leave to cool and then grind to make a smooth powder.
When the onion is cool enough then pour it in the blender along with the tomatoes, green chillies, ginger and garlic.
Blend to make a smooth puree.
Heat the same pan (in which onion was fried).
Add whole garam masala. Saute for few seconds.
Add curry leaves and stir.
Add the ground red puree.
Add salt, red chilli powder and turmeric powder.
Mix well and cook for 3-4 minutes.
Add prawns, coriander powder and the grounded powder of seeds. Mix well.
Add 1 cup of water and cover the pan with its lid.
Leave to cook for another 6 minutes.
Cook until masala thickens and prawns becomes tender enough to serve.
Finally garnish with chopped cilantro.
Serve hot with roti or naan.
Chef Tips:
If you see that prawns are too thick or dry at the time of serving, then add more water, keep on few boils and then serve.
Prawns masala is best to serve with the rice.
If you are not adding whole garam masala, then add garam masala powder. But the aroma of the recipe comes out because of whole garam masala.