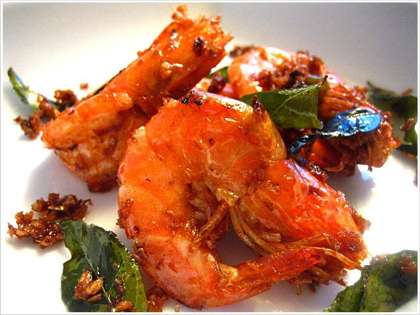 Prawn Arabian is made with tiger prawns, seasoned with the flour, cheese and fresh spices.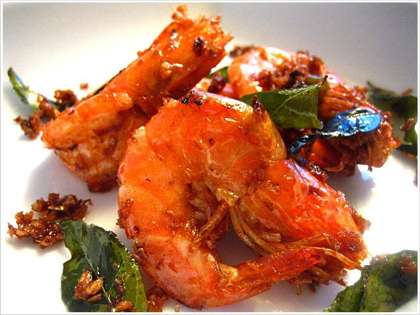 Preparation time: 15 minutes
Cooking time: 25 minutes
Servings: 4
Ingredients:
10-12 tiger prawns (rinsed, shelled and deveined)
6 cloves garlic
1 cup cornflour
2 eggs
1 cup processed grated cheese
1/2 cup spring onions chopped
2-3 lettuce leaves
3 tomatoes finely chopped
1/2 tsp black pepper powder
Salt to taste
Vegetable oil
How to make Prawns Arabian:
Dry the tiger prawns with tail with a clean kitchen napkin and apply salt and pepper over all on them.
Beat the eggs in a bowl until whisked properly and add little bit of salt.
Dip the prawns in beaten egg, roll in the flour and deep fry in hot oil until done.
Drain the fried prawns on an oil absorbent paper.
Sprinkle good amount of grated cheese on top of the fried prawns.
Now stir in chopped spring onion and remaining ingredients.
Serve with lettuce leaves and chopped tomatoes.