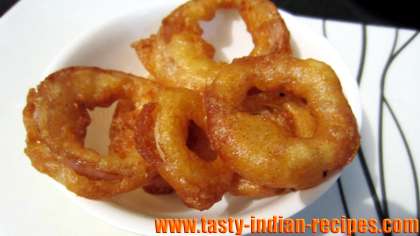 Crispy coated onion rings is a most popular snack dish of drive-in restaurants. These delicious onion rings are the excellent appetizer or side dish, which gets amazing taste and texture only when fresh, homemade buttermilk is used for making its batter.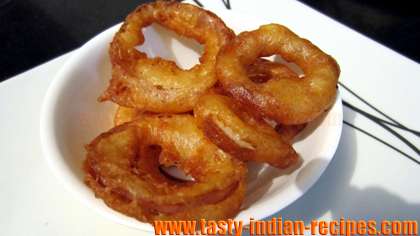 Prep time:
Cook time:
Total time:
Yield: 2 servings
Ingredients:
1 big onion
1/2 cup all-purpose flour (maida)
1 tbsp cornflour
1 cup buttermilk
1/2 tsp soda-bi-carbonate
1/2 tsp black pepper powder
1/2 tsp red chilli powder
Salt to taste
Oil to deep fry
How to make Crispy, Homemade Onion Rings :
Peel the onion and wash in tap water.
Pat dry with clean kitchen napkin and cut into thin round slices, just like we cut it for making sandwiches.
Take out the rings from each slice as many as you can.
Make sure, if the onion slices are thin then thin rings will come out and that is the best thing about it.
Take a bowl and mix remaining ingredients very well.
Make a lump free batter with continuous mixing.
Heat good amount of oil in a frying pan.
Dip 2-3 rings in the prepared batter, coat from all sides and drop into hot oil.
Fry the onion rings on medium high flame from both sides until turns little brown and crispy.
Drain the fried onion rings on oil absorbent paper.
Serve immediately with mango salsa dip.
Enjoy yummy with cocktails and mocktails of your choice.